NBC Miami Updates Years-Old Story After Don Jr. and Others Use it to Spread False Voter Fraud Claims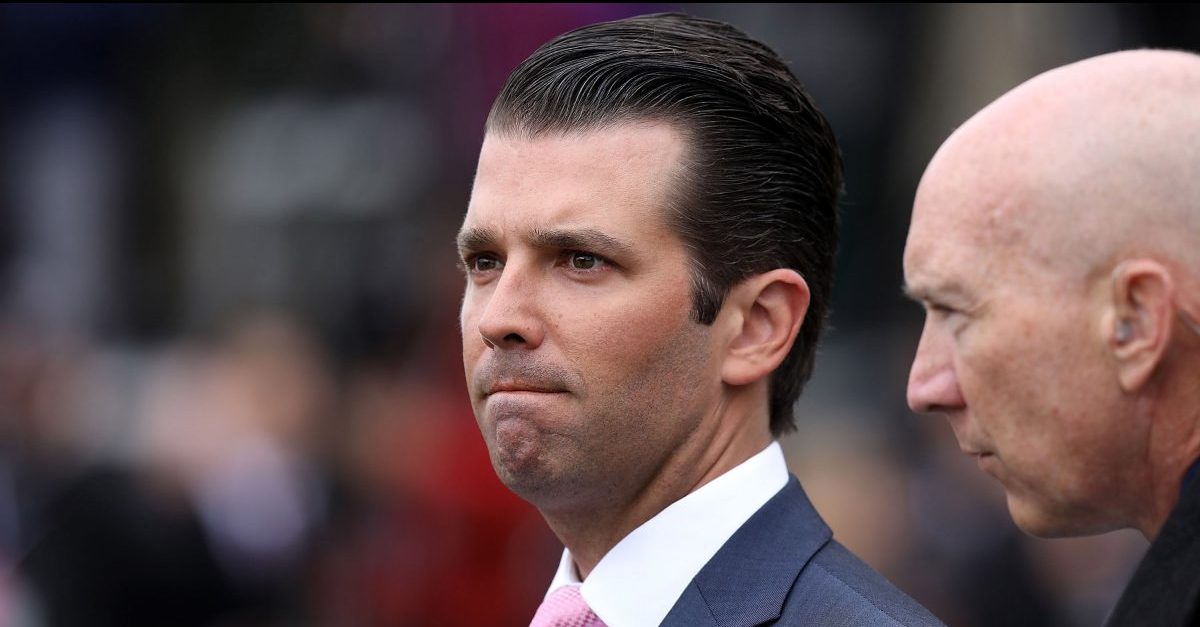 A years-old story has been tweeted by some high-profile figures on the right Monday in an effort to spread a conspiracy about voter fraud in Florida. But now, NBC Miami — the outlet which published the piece tweeted Monday by Donald Trump Jr., among others — has posted an editor's note debunking the false claims which the president's son has been trying to circulate.
The original NBC Miami piece carried the headline: "Nearly 200,000 Florida Voters May Not Be Citizens"
Amid tight elections in Florida for Senate and Governor, Trump Jr. and others on the right ran with that headline — from a story which was published on May 11, 2012.
Amazing, but not shocking at all anymore. Nearly 200,000 Florida Voters May Not Be Citizens https://t.co/8HiObPLeeM via @nbc6

— Donald Trump Jr. (@DonaldJTrumpJr) November 12, 2018
NBC News:

Nearly 200,000 Florida Voters may be non citizens

This is an absolute disgrace to our country. Foreign interference in our elections

Every single one of these people should be arrested, deported, and never allowed reentry

RT to spread this!https://t.co/4tLM3fCib8

— Charlie Kirk (@charliekirk11) November 12, 2018
200,000 non citizens voting in Florida!?!?

But I thought Democrats said voter fraud was a myth? ?

We have got a SERIOUS problem on our hands. #StopTheSteal #MAGA ?? https://t.co/U37I3wR5U0

— Harlan Z. Hill (@Harlan) November 12, 2018
As the tweet got traction, NBC Miami published the following update to their story:
The initial list of 180,000 names was whittled to 2,625, according to the Florida Department of State. The state then checked a federal database and stated it found 207 noncitizens on the rolls (not necessarily voting but on the rolls). That list was sent to county election supervisors to check and it also turned out to contain errors. An Aug. 1, 2012, state elections document showed only 85 noncitizens were ultimately removed from the rolls out of a total of about 12 million voters at that time.
Two hundred thousand vs. 85. Just a tiny difference there.
Observers on both sides of the aisle roasted Trump Jr. and the others who tried to run with the false claim:
Kyle, slow down. You're going to fast for Jr. https://t.co/kn1aAnz4JG

— Joe Walsh (@WalshFreedom) November 12, 2018
"An August 1, 2012, state elections document showed only 85 noncitizens were ultimately removed from the rolls out of a total of about 12 million voters at that time."

So, 0.00071% of people on the voter rolls were found to be noncitizens.https://t.co/IaXcJpe4rY

— Frank Luntz (@FrankLuntz) November 12, 2018
The article he links to is from 2012. This is how fake news spreads https://t.co/dqmfq8eNk2

— Astead (@AsteadWesley) November 12, 2018
hey @DonaldJTrumpJr, this is a story from 2012. you are spreading literal fake news. https://t.co/ZMzx7RvuWy

— kelly cohen (@politiCOHEN_) November 12, 2018
Don did not read this story. Which is from 2012. And includes this update: "The initial list of 180,000 names was whittled to 2,625, according to the Florida Department of State. The state then checked a federal database and stated it found 207 noncitizens on the rolls.." https://t.co/oUj4OasIWl

— Dan Zak (@MrDanZak) November 12, 2018
[featured photo via Getty Images]
Have a tip we should know? tips@mediaite.com
Joe DePaolo - Senior Editor