New Email Shows Colin Powell Told Hillary How to Avoid State Dept Servers With Private Email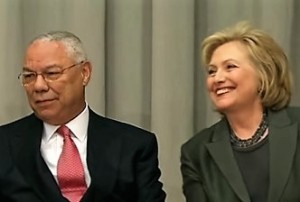 The interview notes and other reports that the FBI released Friday contained some little-reported details that tend to support former Secretary of State Hillary Clinton's version of events, but House Democrats just released one more document that goes even further, not only refuting former Secretary of State Colin Powell's insistence that he didn't email Hillary about his own email practices until a year after she took office, but showing Powell explicitly telling Hillary how to avoid "going through the State Department servers" by setting up a private email system.
Powell even explicitly stated that this system was for use in communicating with foreign leaders and senior State Department officials, in the email that was dated January 23, 2009:
I didn't have a Blackberry. What I did do was have a personal computer that was hooked up to a private phone line (sounds ancient.) So I could communicate with a wide range of friends directly without it going through the State Department servers. I even used it to do business with some foreign leaders and some of the senior folks in the Department on their personal email accounts. I did the same thing on the road in hotels.
When House Republicans leaked a portion of the FBI notes several weeks ago, Powell told a reporter that "[Secretary Clinton's] people have been trying to pin it on me," adding that "The truth is, she was using [the private email server] for a year before I sent her a memo telling her what I did."
The FBI notes contain only limited information about this email, and did not include Powell's admission that he set up a private system in order to avoid State Department servers.
This is an opinion piece. The views expressed in this article are those of just the author.