New McClatchy-Marist Poll Has Bad News For Barack Obama, Good News For Sarah Palin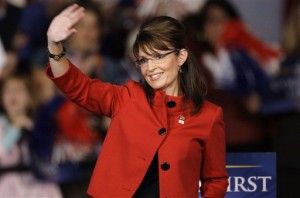 Perhaps Sarah Palin will rethink her stance on polls after taking a look at the results of a recent one. A new McClatchy-Marist survey of 1,042 adults shows Barack Obama losing ground to Republicans, with 49 percent of respondents saying that they definitely plan to vote for someone other than the President. With many speculating that Independent voters can make or break Obama's chances of spending a second term in the White House, it's also worth noting that 53 percent of Independents said they also definitely plan on voting against Obama. In addition, voters in general — by a margin 52 percent to 38 percent — think he'll lose to any given Republican nominee, a sentiment echoed by a sizable 31 percent of Democrat respondents.
And while Texas Gov. Rick Perry of Texas continues to lead among those candidates who have officially announced their presidential campaigns for the Republican presidential nomination, the poll is also (potentially) good news for Palin:
The biggest gain came for Palin, the former Alaska governor who hasn't yet announced whether she'll jump into the fast-changing race for the 2012 Republican presidential nomination.

After trailing Obama by more than 20 percentage points in polls all year, the new national survey, taken Sept. 13-14, found Palin trailing the president by just 5 points, 49-44 percent. The key reason: She now leads Obama among independents, a sharp turnaround.
Although she's remained fairly mum on the subject, now that the Republican candidates are revving up for another debate tomorrow in Orlando, Florida and the deadline for announcing one's candidacy is fast approaching, these new poll results may very well factor into Palin's ultimate decision.
h/t The Miami Herald
Have a tip we should know? tips@mediaite.com