New Poll Shows That 41% of Republicans STILL Don't Think Obama Was Born in the U.S.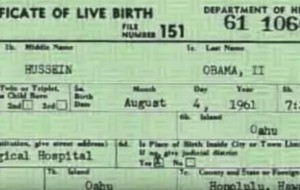 Well, you have to give Donald Trump credit for one thing: the man can take even the most ridiculous theories and spin them into popular frenzy.
This last week we saw it with the stunning claim that if Hillary Clinton wins the White House in November, "it will be because it was rigged." This has, of course, been a popular sticking point that the GOP candidate has attached himself to in recent weeks, using every opportunity to claim (in the face of severely declining poll numbers, nonetheless) that the November 8th outcome may be predetermined. As I wrote on in this space Tuesday, it has worked: 69% of Trump supporters agree.
But it was Trump's foremost foray into politics — way back in 2011 — that still proves to have lasting impact apparently. The real estate mogul launched a public campaign for the sitting President of the United States to reveal his longform birth certificate, claiming there was not substantiated evidence that he was a naturalized-born citizen. The so-called "birther" controversy spiraled on for months, foreshadowing Trump's ability to steal headlines — and most importantly, focus — from anyone he viewed as a rival.
Obama eventually said, "I have watched with bemusement. I've been puzzled with the degree with which this thing just kept on going. We've had every official in Hawaii — Democrat and Republican — every news outlet that has investigated this, confirm that, yes, in fact I was born in Hawaii August 4, 1961 in Kapiʻolani Hospital." The birth certificate was released as well.
But holy hell, Republicans still refuse to be convinced.
According to a new NBC News/SurveyMonkey poll, seventy-two percent of registered Republicans "still doubt" the President's place of birth. Forty-one percent outright disagreed with the statement, "Barack Obama was born in the United States," while only twenty-seven percent of Republicans agree.
As NBC News blatantly states in the poll's findings, "Only slightly more than one in four Republican voters agreed that the president was born in the United States."
The findings of the poll indicated that there was very little difference between registered Republican voters who identified as having "low political knowledge" and "high political knowledge." The poll was conducted from June 27 through July 5.
This is an opinion piece. The views expressed in this article are those of just the author.