CIA Reportedly Presented With Recording Connecting Saudis to Khashoggi's Murder: 'Tell Your Boss'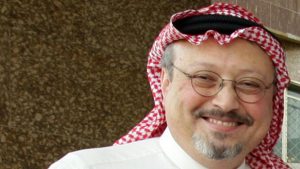 A new report indicates that CIA director Gina Haspel was presented with an audio recording last month that suggests a direct link between Jamal Khashoggi's death and the Saudi Arabian royal family.
The New York Times reports that Turkish officials have picked up on a call from the Saudi Embassy of Istanbul shortly after Khashoggi died there. Maher Abdulaziz Mutreb, one of 15 Saudi agents sent to confront Khashoggi in Turkey, is believed to have made the intercepted call to an aide for Crown Prince Mohammed bin Salman.
According to the Times, American intelligence believes Mutreb instructed the aide to "tell your boss" that the job was done.
From the report:
"Turkish intelligence officers have told American officials they believe that Mr. Mutreb, a security officer who frequently traveled with Prince Mohammed, was speaking to one of the prince's aides. While translations of the Arabic may differ, the people briefed on the call said Mr. Mutreb also said to the aide words to the effect of "the deed was done."

"A phone call like that is about as close to a smoking gun as you are going to get," said Bruce O. Riedel, a former C.I.A. officer now at the Brookings Institution. "It is pretty incriminating evidence."
Haspel listened to the recording when she visited the Turkish capital last month, though Turkish officials wouldn't allow her to take a copy for further analysis.
The Saudi government continues to deny that Prince Salman had anything to do with Khashoggi's death, and they pushed back on the record's assertion by saying Turkey "allowed our intelligence services to hear recordings, and at no moment was there any reference to the mentioned phrase in the such recordings." They are also highlighting the detail that Salman isn't mentioned by name despite the alleged "tell your boss" comment from Mutreb.
[Image via Getty]
— —
>> Follow Ken Meyer (@KenMeyer91) on Twitter
Have a tip we should know? tips@mediaite.com