Watch: Newly Elected Ukraine Parliament Descends Into All-Out Violent Brawls Between Politicians
Ukraine Parliament Descends Into All-Out Violent Brawls Between Politicians
Members of Ukraine's newly elected descended into a brawl on Wednesday — causing the session to be suspended. The fighting came amid opposing sides blocking the election of a prime minister and parliamentary officials. On Thursday, they'll attempt again.
The country's not a stranger to such chaos, and this incident is tied to the Ukrainian opposition's blocking voting (via Reuters):
Protests from a re-energized Ukrainian opposition at a boisterous opening session of a new parliament on Wednesday pushed back the key vote to endorse Mykola Azarov for a new term as prime minister.

The vote, now expected to take place on Thursday, will be the first test of support that President Viktor Yanukovich, who re-nominated Azarov, commands in the new chamber.

Yanukovich's pro-business Party of the Regions and their allies enjoyed a strong majority in the last parliament, which allowed them to push through changes to the electoral law and a law on use of the Russian language that sparked street protests.
CNN reported that one member's ear was torn. Per their report:
Later, members of the Svoboda Party, which came in fifth in national elections held in October, broke the doors and a metal detector at the parliament's entrance to let even more members in.

"We knocked and knocked," said Svoboda Party MP Yuriy Syrotyuk. "The question is, who locked the doors for the members of parliament?"

Member walked on tables, on their colleagues' heads and the speaker's seat. The number of injuries has not been released.

Eventually members agreed to suspend the session and resume Thursday. "Our negotiations were successful" said Oleksandr Efremov, a member of the Temporary Parliamentary Panel. "We negotiated to continue negotiations."
Negotiations were successful? Incredible. (Add your own fiscal cliff joke.)
A few photos of the scene below: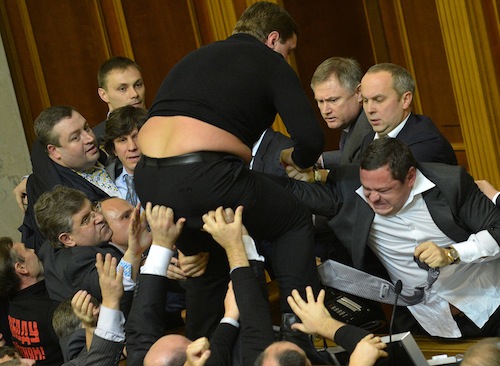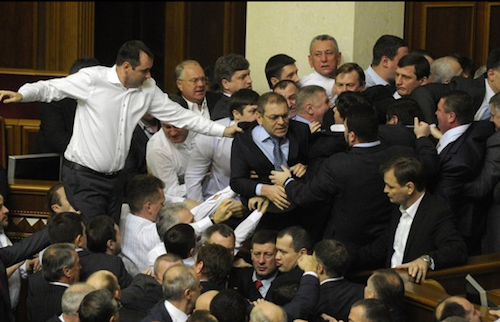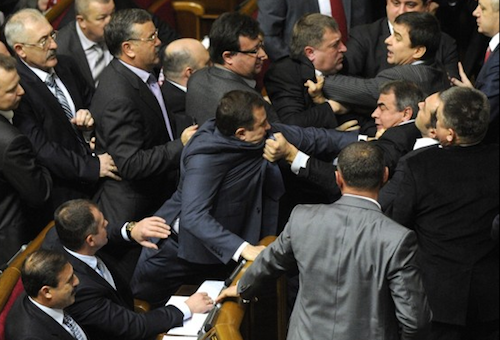 Video below, via the AP:

Raw: Brawl Over Vote in Ukraine Parliament by associatedpress
Have a tip we should know? tips@mediaite.com