New York Post: OWS Protestors Costing Local Businesses Half A Million Dollars So Far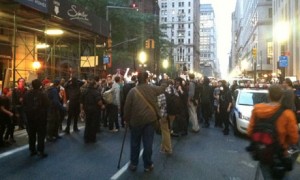 The Occupy Wall Street protestors are marching for the 99%, but others within the 99% have vocally expressed their frustration with the protests. Local businesses have claimed OWS has resulted in lost profits since the protests began a few weeks ago, and according to a survey of businesses on and around Broadway by the New York Post, businesses in the area have lost a combined total of roughly half a million dollars in total.
Various business owners explained that the sight of the protestors organizing in the area and marching up and down the sidewalks intimidates potential customers and deters many people from making any purchases. One employee from Pret A Manger, a coffee and sandwich shop, complained that protestors organize impromptu meetings in their establishment, forcing workers to stay late for "hours past closing time." The manager of a local Chinese resturant reported seeing dirty clothes all over the bathroom floors.
Last week, the owner of Panini & Co. Breads told the Post that she and her employees have been threatened and harassed by members of OWS, and have been causing general mayhem inside the establishment.
The final straw came about two weeks ago, when the demonstrators broke a bathroom sink, flooding the shop, and clogged the toilet — setting her back $3,000 in damages.

She put up a sign that said the bathroom was out of order, but they tore it down shortly afterward, she said.

"I have the police in here 10 times a day, [and] I'm the bouncer. I've been called the spawn of the devil. "It's unbelievable what goes on in here every day."
Cafe Health World has also complained about the protestors. Goldman Sachs employees would often order takeout from there, but now, according to the manager, "no one wants to stay in the Financial District." The Christian Science Monitor details how small businesses in other cities like Oakland and Philadelphia have been hit by protests in those cities.
Have a tip we should know? tips@mediaite.com
Josh Feldman - Senior Editor