Bachmann Camp Accuses CBS News Of Media Bias After Accidentally Receiving Private E-Mail
Bachmann Camp Accuses CBS Of Media Bias After Accidentally Receiving Private E-Mail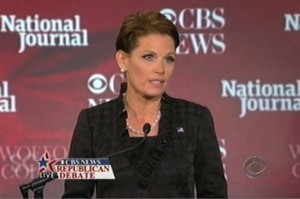 Republican presidential candidate Michele Bachmann is crying foul after CBS' foreign policy debate yesterday, accusing the network of media bias because of an e-mail that indicated she would not be getting as many questions as the other candidates.
Alice Stewart, the congresswoman's spokeswoman, let CBS News know Bachmann would be available for a post-debate interview with CBS on a live webcast, and a CBS employee e-mailed CBS News political director John Dickerson to let him know. The employee cc'ed Stewart on the e-mail, but when Dickerson replied, he was quite possibly unaware of this fact. He e-mailed back the following message that Stewart found in her inbox:
"Okay let's keep it loose though since she's not going to get many questions and she's nearly off the charts in the hopes that we can get someone else."
After the campaign found out, Bachmann's campaign manager Keith Nahigian reportedly said, "John Dickerson should be fired. He is a piece of shit. He is a fraud and should be fired."
CBS News defended the e-mail, explaining it was nothing more than "a candid exchange about the reality of the circumstances." Dickerson said it was a decision he made based on Bachmann's placement in the GOP polls, and that's what his e-mail was based on.
Debate moderator and CBS News anchor Scott Pelley was reached for comment, but he denied any prior knowledge of the e-mail chain and pointed out he and co-moderator Major Garrett did their best to give equal time to all the candidates.
A screenshot of the e-mail has been posted to Bachmann's Facebook page by Nahigian with the following caption:
While Michele has been onstage at tonight's debate demonstrating strong leadership on foreign policy and national security, we received concrete evidence confirming what every conservative already knows – the liberal mainstream media elites are manipulating the Republican debates by purposely suppressing our conservative message and limiting Michele's questions.

View the attached email by CBS News' political director from earlier today–we need to show the liberal media elite that we won't stand for this outrageous manipulation. Help us fight this affront by sharing this with your friends.
h/t CNN
Have a tip we should know? tips@mediaite.com
Josh Feldman - Senior Editor