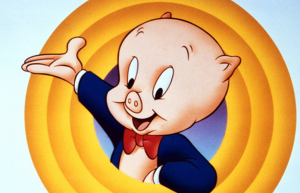 The world can now breathe a sigh of relief that The New York Times has finally corrected an egregious error in its reporting, one which stood for entirely too long.
You may recall that a few months ago, the paper ran a controversial story about Hillary Clinton's use of private email that turned out to be "fraught with inaccuracies," according to the paper's public editor. Obviously shaken by the experience, the Gray Lady is now bound and determined to get the important things right. That's why there was no way that this veritable slander would be allowed to stand:
MOSCOW — On a warm August evening, I found myself sitting with three educated young Russians at the Beverly Hills Diner, a chain restaurant whose gaudy décor includes human-size figures of Porky the Pig and Marilyn Monroe.
If you're having trouble spotting the problem, don't worry: the NYT editorial staff has you covered. The following correction now appears at the end of the story:
Correction: September 20, 2015
A news analysis last Sunday misstated the name of a cartoon character displayed at a Moscow diner. He is Porky Pig, not Porky the Pig.
It's a good thing they cleared that up, because I thought they were saying that there is only one pig left in the world, and his name is Porky. A spokesman for the beloved character told Mediaite, via email, that "Mr. Pig is grateful to the Times for the correction, and is hopeful that next time, they'll g-g-g-get it right the first time."
Amazingly, this wasn't the only correction to the article, as an earlier version of the correction was later revised. Here's what the original correction said:
Correction: September 13, 2015

An earlier version of this article misstated the name of a cartoon character. He is Porky Pig, not Porky the Pig.
Here's hoping they got the correction right this time, and that that really is all, folks.
Have a tip we should know? tips@mediaite.com