New York Times Slams Trump's 'Outrageous' Mocking of Reporter With Congenital Condition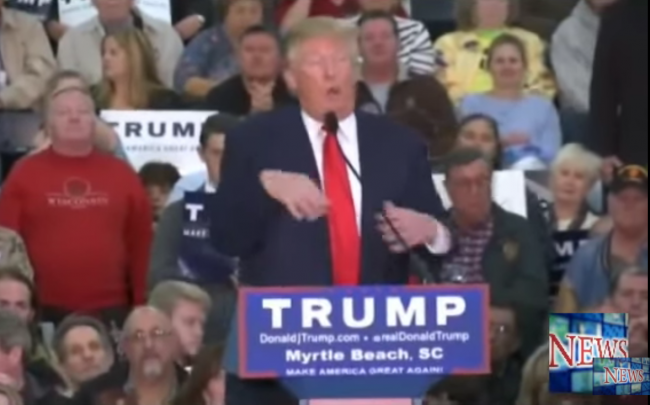 The New York Times slammed Donald Trump for his "outrageous" mocking of a reporter who suffers from a congenital condition, Politico reports.
"We think it's outrageous that he would ridicule the appearance of one of our reporters," a Times spokeswoman said Wednesday.
During a campaign rally in South Carolina Tuesday night, Trump imitated Times reporter Serge Kovaleski who suffers from Arthrogryposis, a physical condition that affects the range of a person's joints. Describing Kovaleski as a "nice reporter," Trump mocked his atypical arm and hand motions, telling his audience in a mocking tone, "you ought to see the guy: 'Uhh I don't know what I said. I don't remember.'"
"He's going, 'I don't remember. Maybe that's what I said'," Trump continued, providing a crude reenactment of Kovaleski's movements.
Trump performed the imitation during a defense of his claim that he saw "thousands" of Muslims celebrating in New Jersey after 9/11. Kovaleski wrote an article for The Washington Post in 2001 about FBI investigations in New Jersey following the attacks, though the reporter told CNN Tuesday he does, "not recall anyone saying there were thousands, or even hundreds, of people celebrating."
Watch video of the rally above, via News Universe on Youtube (Trump mocks Kovaleski around the 45:50 mark).
UPDATE: 8:40 P.M. EST Times correspondent Alex Burns also offered commentary on Trump's taunting, seconding a point noted by Politico that his campaign's insults on physical disabilities goes beyond the man himself:
Trump spokeswoman called a political opponent "deformed" — he'd been severely wounded by an IED in Iraq https://t.co/JI6atOJGUi

— Alex Burns (@alexburnsNYT) November 26, 2015
Indeed, Trump spokeswoman Katrina Pierson came under a great deal of scrutiny after she called a disabled veteran "deformed" when he actually suffered critical burns and injuries from an improvised explosive device. She gave these comments back in 2012 while she worked for Ted Cruz's Senate bid.
—
>> Follow Elizabeth Preza on Twitter (@lizacisms)
Have a tip we should know? tips@mediaite.com