New Yorkers Aren't Thrilled About Trump Invoking Eric Garner's Last Words In Dig at Romney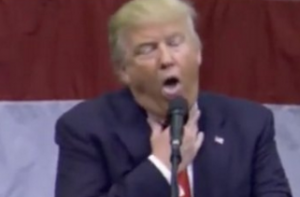 When a Staten Island grand jury failed to indict the officer who killed Eric Garner with a chokehold over Garner's suspected sale of untaxed cigarettes, it hit New York City like a historical ton of bricks. There were protests and round-the-clock news coverage. Every night for weeks, the street were filled with protesters. The effects of Garner's death and the lack of indictment were far-reaching and long-lasting.
Yesterday, during a speech in Rome, New York, Donald Trump decided to make fun of Mitt Romney by invoking Garner's infamous last words, "I can't breathe. I can't breathe."
"The last election should have been won, except Romney choked like a dog. He choked," said Trump, according to The Staten Island Advance. Then, he put his hands to his throat in the universal choking sign and quoted Garner.
Trump mocks Eric Garner in criticism of Mitt Romney-IF U DON'T LIKE HIS ACTIONS NOW,IF ELECTED,WILL BE TOTAL FIASCO https://t.co/ztA5v26abZ

— Marvin Byrd (@_MarvinByrd) April 13, 2016
People don't seem excited about it, although The Advance reported that there was laughter at the event in Rome when he made fun of Romney.
On @ny1 @patkiernan reported Trump theatrically used Eric Garner's last words to describe Romney's "choke." Grotesque. Beneath contempt.

— Hudsonette (@hudsonette) April 13, 2016
Donald Trump is a Dumbass for saying Those words by Eric Garner, "I Can't Breathe" & It is not funny. #Sanders2016 #Clinton2016

— Joy Habe Houston (@JoyHabeHouston) April 13, 2016
Trump using Garner's words "I can't breathe" as a joke to verbally attack a politician makes me sick to my stomach. #EricGarner

— Breannè DeZinna (@BreanneDeZinna) April 13, 2016
Trump, in Rome, NY, mocking Romney, pretended to choke himself and said, "I can't breathe." Get it? Ugh.

— JeffSharlet (@JeffSharlet) April 13, 2016
The primaries in New York at set for next Tuesday. Trump will be addressing the Staten Island Republican County Committee's at the annual Lincoln Day brunch Sunday.
[image via Twitter]
For more from Lindsey, follow her on Twitter.
Have a tip we should know? tips@mediaite.com