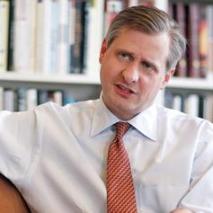 Fox News' new big star Glenn Beck appeared on the cover of Time magazine last month, in a story about his and Fox News' influence, and now FNC is getting a focus from Time's competitor.
Newsweek's editor Jon Meacham takes on the White House feud with Fox News, and provides a historical context to the battle.
Meacham has a different perspective on the feud than the dozens of others who have weighed in over the last couple weeks, but he comes to largely the same conclusion – this isn't really working for the the White House:
The whole thing feels like the last war, or a song that has not worn well, or a guest who has overstayed his welcome. The White House–vs.–Fox News mini-saga belongs to an era that effectively ended last fall, when President Bush radically enlarged the role of the federal government in the economy and Obama won the presidency.
He does note that while FNC Chairman Roger Ailes "is a talented and influential man," the description of FNC's influence can go overboard. "If he and Fox News were as omnipotent as Democrats fear, John McCain and Sarah Palin would be in the White House," writes Meacham.
The cover story by Anna Quindlen, which is sure to get a lot of reaction, is headlined: "Yes he can (but he sure hasn't yet): A liberal's survival guide." It is through introducing this cover story that Meacham drives home his point about the feud:
Liberals should savor the moment, because the Ailes bashing may be about all they get. As Anna Quindlen notes in our cover this week, the left is frustrated with Obama, believing him too quick to compromise on progressive principles and too open to staying the course on George W. Bush's policies, particularly on national security. A year after Obama stood in Grant Park, a figure of history, he has not brought about a liberal kingdom of God—or even a "public option."
There is a sense of Fred Armisen's 'Pres. Obama has accomplished nothing' sketch on Saturday Night Live last month in this story. And when outlets like Newsweek take this point of view, the Obama administration is headed for another week of questions about effective policy.
> More: The Los Angeles Times has more on the feud, with this interesting quote from Brit Hume:
"We may be No. 1, but there is sort of an insurgent quality to Fox News," said senior political analyst Brit Hume. "And that's kind of our attitude: 'Hoist a Jolly Roger, pull out our daggers and look for more throats to slit.' This is tremendous fodder for us. My lord, we've been living on it."
—–
» Follow Steve Krakauer on Twitter
Have a tip we should know? tips@mediaite.com