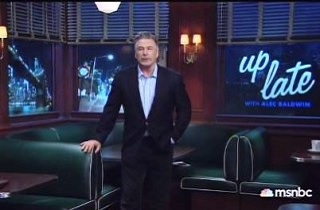 Embattled actor and former MSNBC host Alec Baldwin is creating some ripples in the pop-culture pond with his lengthy "Good bye, cruel world" essay (via dictation) for New York Magazine, but if those 5,000-plus words are too much for you to get through, Baldwin's problems can be boiled down to a single paragraph. The predictable combination of self-absorption and obliviousness are evident throughout, but neatly encapsulated in his description of an effort to reach out to the LGBT community he's offended.
The churlish shots at MSNBC, Rachel Maddow (and even at executive producer Jonathan Larsen, who left a successful show to run the Baldwin Titanic) are the stuff of entertaining media chatter, but they only hint at the self-defeating character that has caused Baldwin, the gifted actor and comic savant, so much trouble. Here is all you need to know about Alec Baldwin, in a single paragraph. He talks about arranging a meeting with two LGBT organizations, and here's how he describes one of those interactions:
One young man, an F-to-M tranny, said, "Are you here to get dry-cleaned, like Brett Ratner?" Meaning I could do some mea culpa, write them a six-figure check, go to a dinner, sob at the table, give a heartfelt speech, beg for forgiveness. I thought to myself: Beg for forgiveness for something I didn't do?

I said, "No. I don't want to get dry-cleaned. I don't want to be decontaminated by you, Karen Silkwood–wise, scrubbed down. I want to learn about what is hurtful speech in your community. I want to participate in some programs about that. Or underwrite one. And then, like you, I just want to be left alone."
This is a little bit like calling the NAACP and asking "How, exactly, can I avoid offending you coloreds?"
Alec Baldwin is not some fresh-off-the-bus-from-Kansas neophyte who doesn't know how to act, he's had extensive interactions with GLAAD, whom he leans on for forgiveness when he exhibits deep hostility for LGBT people. Instead of using GLAAD as a human shield, maybe Baldwin ought to take a look at their website for a minute:
Defamatory: "she-male," "he-she," "it," "trannie," "tranny," "shim," "gender-bender"
These words only serve to dehumanize transgender people and should not be used.
Of course, it doesn't take a GLAAD glossary to know that "tranny" is a derogatory term, it only takes an ability to taste one's own venom as it is spat. Baldwin didn't call that man a "tranny" out of respect for LGBT people, any more than he called his critics the "Gay Department of Justice" out of respect for their concerns. The vocabulary of hate is in his mouth because it is in his heart, and until he slows down and notices that, Alec Baldwin might just be better off quitting than carrying on.
Have a tip we should know? tips@mediaite.com