Norman Mailer's Widow Proves What We All Knew – Bill Clinton Is A Smooth Operator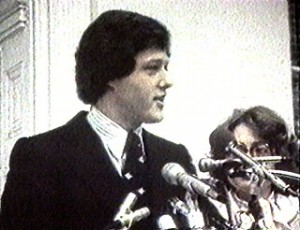 Norris Church Mailer, the wife of the late Norman Mailer, has a new memoir out today entitled A Ticket to the Circus. The book details her relationship with the famous author from the point she met him, when she was 26 and he was 52, through his death. However, either Church Mailer or her publishers have chosen to focus on another, briefer relationship that the author delves into in order to sell the book. In an excerpt published in the Daily Beast yesterday, the memoir depicts what it's like to date none other than a 27-year-old Bill Clinton.
You can't blame Church Mailer's team for choosing this section to release since the romantic stylings of a young Slick Willie are bound to hook potential readers. And you can't blame us for biting that hook and linking, since the excerpt contains quotes as amazing as this one:
"He was 27 years old, single, and named Bill Clinton. I came in late, just as he began his talk, and he later said that when he saw me walk in, he forgot his speech—and then he forgot his name. I suspected he said that same thing to quite a few women, but it's a good line, so why not use it?"
God, that guy was smooth. The rest of the excerpt details their time together during Clinton's unsuccessful campaign for Congress. None of it is incredibly shocking (NEWS FLASH: Bill Clinton liked the ladies!) but it's still a fun read. Love him or hate him, there's just something fascinating about our 42nd president. So, take our word for it, and give the thing a read.
Have a tip we should know? [email protected]