NPR Host Scott Simon Has Been Live-Tweeting His Mother's Final Days From Inside ICU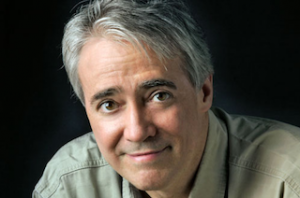 Scott Simon, the host of NPR's Weekend Edition, has been captivating his more than 1.2 million Twitter followers over the last week with updates from inside the ICU where his mother is experiencing what he expects will be her final days. It a breathtakingly candid and moving look into the side of death that we rarely see unless we are experiencing it first hand.

Below are a sample of the moving moments Simon has generously been sharing with the world.
I just want to say that ICU nurses are remarkable people. Thank you for what you do for our loved ones.

— Scott Simon (@nprscottsimon) July 23, 2013
My mother in ICU sees Kate & Will holding baby and tears: "Every baby boy is a little king to his parents. " So I tear too.

— Scott Simon (@nprscottsimon) July 23, 2013
Thanks for prayers my mother in ICU. She greeted the woman who picks up trash: "Blanca, you herald a new day." Class.

— Scott Simon (@nprscottsimon) July 25, 2013
I am getting a life's lesson about grace from my mother in the ICU. We never stop learning from our mothers, do we?

— Scott Simon (@nprscottsimon) July 25, 2013
Tnx for all but wishes for my mother in ICU. Her anthem, more than ever, is But I'm Still Here. She inspires us all.

— Scott Simon (@nprscottsimon) July 26, 2013
Our friend Wen Huang dropped by ICU to read to my mother from his book. She smiles, "Haven't we had a lovely day?"

— Scott Simon (@nprscottsimon) July 26, 2013
I consider this a good sign: mother sez when time comes, obit headline should be Three Jewish Husbands, But No Guilt.

— Scott Simon (@nprscottsimon) July 27, 2013
My mother drifts to sleep listening to Nat's Unforgettable. I keep things light, but moments like this hard, if sweet.

— Scott Simon (@nprscottsimon) July 27, 2013
Thanks for all good wishes. Mother says, "We can get through this, baby. The hardest part we'll be for you when it's over"

— Scott Simon (@nprscottsimon) July 27, 2013
My mother: "Believe me, those great death bed speeches are written ahead of time. "

— Scott Simon (@nprscottsimon) July 27, 2013
Listening to La Boheme now, Bocelli. Mother can't keep eyes closed. "Maybe opera will help. I always slept when I went."

— Scott Simon (@nprscottsimon) July 27, 2013
I don't know how we'll get through these next few days. And, I don't want them to end.

— Scott Simon (@nprscottsimon) July 28, 2013
Mother asks, "Will this go on forever?" She means pain, dread. "No." She says, "But we'll go on forever. You & me." Yes.

— Scott Simon (@nprscottsimon) July 28, 2013
I am not sure my mother understands Twitter or why I tell her millions of people love her–but she says she's ver touched.

— Scott Simon (@nprscottsimon) July 28, 2013
Mother groans w/ pleasure–over flossing. "When they mention great little things in life, they usually forget flossing."

— Scott Simon (@nprscottsimon) July 28, 2013
I love holding my mother's hand. Haven't held it like this since I was 9. Why did I stop? I thought it unmanly? What crap.

— Scott Simon (@nprscottsimon) July 29, 2013
Her passing might come any moment, or in an hour, or not for a day. Nurses saying hearing is last sense to go so I sing & joke.

— Scott Simon (@nprscottsimon) July 29, 2013
The loveli cityscape at the foot of my mother's bed: pic.twitter.com/Bu7AIfLaMs

— Scott Simon (@nprscottsimon) July 29, 2013
—
>> Follow Matt Wilstein (@TheMattWilstein) on Twitter
Have a tip we should know? tips@mediaite.com