Number Of Television And Radio Mentions Correctly Predicted The Iowa Caucus Finish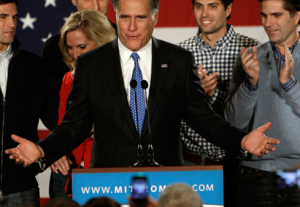 For those subscribing to the idea that the media controls the minds of its viewers, here is something to consider. Mediaite studied all the major cable and broadcast television and radio stations on Tuesday, Jan. 3, 2011, from 12:00 a.m. to 11:59 p.m. And the number of mentions of each of the seven major Presidential candidates lined up perfectly in order with their finish in the Iowa Caucuses. But the bigger twist is this: the percentages of TV/radio mentions and Iowa votes were almost exactly the same, sporting a .975 correlation (with 0 being the lowest and suggesting no correlation, and 1 being the highest). Statisticians consider a .75 correlation to be "high." A .975 correlation is incredibly high.
The research was conducted by Mediaite using the final polling numbers from the Iowa caucuses and the TVEyes database, a service that archives and transcribes hundreds of TV and radio stations across the world.
The findings:
The Iowa Caucus results:
Mitt Romney: 30,015 votes – 24.6%
Rick Santorum: 30,007 votes – 24.5%
Ron Paul: 26,219 votes – 21.4%
Newt Gingrich: 16,251 votes – 13.3%
Rick Perry: 12,604 votes – 10.3%
Michele Bachmann: 6,073 votes – 5%
Jon Huntsman: 745 votes – 0.6%

TV and Radio mentions on Jan. 3, 2011:
Mitt Romney: 16,741 mentions – 27.4%
Rick Santorum: 13,187 mentions – 21.6%
Ron Paul: 12,830 mentions – 21%
Newt Gingrich: 8,006 mentions – 13.1%
Rick Perry: 4,929 mentions – 8.1%
Michele Bachmann: 3,718 mentions – 6.1%
Jon Huntsman: 1,658 mentions – 2.7%
Correlation between percentages: .975
Keep in mind, this included essentially every television station — national and local — from MTV to Fox News to WSTM in Syracuse, N.Y.
Is this media influencing the vote? Or is this media being incredibly in tune to what Iowans were thinking? Or, perhaps, was this just an insanely weird coincidence? "Clearly, there's a relationship there," Cory Schwartz, VP of Stats for MLB Advanced Media, tells Mediaite, "But remember, it's called a 'correlation,' not a 'causation.' We don't know what's driving what. Still, it's an incredibly high correlation."
Expect a re-visitation of this phenomenon next week, after Tuesday's primary in New Hampshire.
(Image: AP/Charlie Neibergall)
Have a tip we should know? tips@mediaite.com