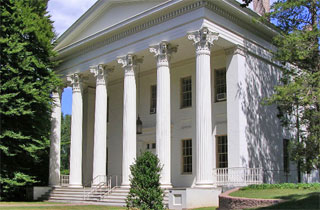 The New York Times's Tatiana Schlossberg recently filed a story about the recent string of drug overdoses at Wesleyan University that saw five students arrested and sent ten students to the hospital in one night. In order to do so, the Times wanted to get quotes from students who may have used molly and who may have insight into its dealers. But how do you get people to talk about where you can find the drugs on campus, much less admit to the Times that they use drugs?
Pull a full 21 Jump Street, of course, and send your 24-year-old reporter to Wesleyan so she can find out where the drugs are.
As Schlossberg recalled in a blog post, just because one is a Young Person doesn't necessarily mean that one is a Young Person Who Can Use Her Youth Skills to Find The Drugs. "Even when I was in college, I had never really wanted to go to parties," she wrote. "And now I was going to have to spend a Friday night trying to find out where parties were at a school where I didn't go and didn't know anyone? Nightmarish.
"Also, no one had ever really offered me drugs in college, so I had no idea how I was supposed to find them," she added, and discovered that her drug dealer connex weren't so willing to talk:
Luckily, I had been put in touch with one student who seemed cool — at least cooler than me — and so I emailed her to ask if I could hang out with her on Friday.

I tried to sell her with this line: "I may not be cool, but at least I don't look old."

She told me that she was going to be out of town on Friday night, but that we could meet on Friday afternoon, and she would find some people who wanted to talk to me and maybe I could go out with them. She found one person who would sit for an interview; that person did not want to take me to parties.

Then, I was put in touch with the friend of a cousin of a friend of my older sister's, because no connection is too tenuous, apparently. When I showed up at his house, he graciously invited me in.

I was surprised, because the other students whom I had interviewed were slightly cagey about talking to me. It turned out he thought I was a high school student who was interested in attending Wesleyan. We passed an uncomfortable hour as I tried to ask him questions about drugs and he tried his best not to answer. He did better than I did.
Thankfully, Schlossberg managed to find a high school friend who was able to vouch for her, and she managed to get the quotes she needed. But the journalism lesson of the day for editors — and, really, for adults everywhere: millennials are not automatically configured to get their hands on drugs.
(I feel for you, Schlossberg. I would not have been able to complete this assignment either.)
[NYT]
[Image via Paul Malo/Wikimedia Commons]
—
>> Follow Tina Nguyen (@Tina_Nguyen) on Twitter
Have a tip we should know? tips@mediaite.com