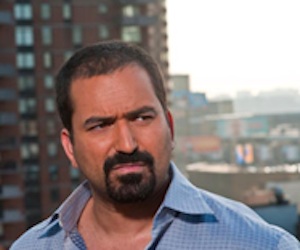 Tragic news broke yesterday that CBS News' Lara Logan was victim to a sustained a brutal sexual attack at the hands of a dangerous element amidst the celebration in Cairo's Tahrir Square. The news brought universal condemnation and empathy from Logan's media peers, but it also seemed to also bring the worst out in some people as well. Take for example now former NYU Fellow Nir Rosen , who took to his Twitter feed to make what he later claimed to be inappropriate jokes that he soon deleted. In the firestorm of controversy that followed, Rosen offered his resignation, which NYU readily accepted.
Rosen's tweets on the matter later brought an apolgy, and and explanation that they were meant as private jokes among friend. The worst of the Tweets are excerpted below: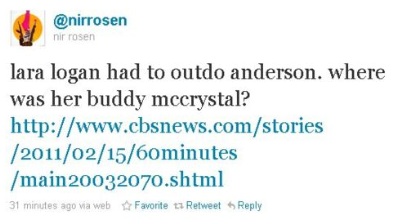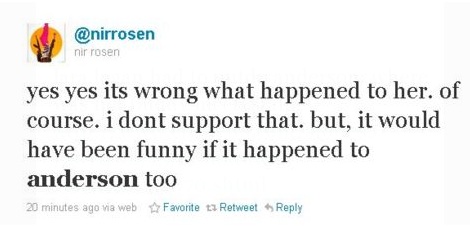 From Karen J. Greenberg, Executive Director, Center on Law and Security (via):
Nir Rosen is always provocative, but he crossed the line yesterday with his comments about Lara Logan. I am deeply distressed by what he wrote about Ms. Logan and strongly denounce his comments. They were cruel and insensitive and completely unacceptable. Mr. Rosen tells me that he misunderstood the severity of the attack on her in Cairo. He has apologized, withdrawn his remarks, and submitted his resignation as a fellow, which I have accepted. However, this in no way compensates for the harm his comments have inflicted. We are all horrified by what happened to Ms. Logan, and our thoughts are with her during this difficult time.
@NirRosen: And that is the end of the Nir Rosen era at NY Center on Law and Security. Rosen has added the following statements via Twitter:
@NirRosen: i apologize and take it back. joking with friends got out of line when i didnt want to back down. forgot twitter is not exactly private
@NirRosen: As someone who's devoted his career to defending victims and supporting justice, I'm very ashamed for my insensitive and offensive comments
@NirRosen: on the job you get used to making jokes about our own death, other people's deaths, horrors, you forget that you sound like a dick at home
@NirRosen: to the 500 people new twitter followers and the old ones. I did not mean it and i apologize again. it was an inappropriate unaccetable joke
@NirRosen: but there is no point following me, i am done tweeting. too ashamed of how i have hurt others and the false impression i gave of who i am
@NirRosen: I feel I should make one last statement. I offer my deepest apologies to Ms. Logan, her friends and her family. I never meant to hurt anyone
@NirRosen: I know that in a matter of seconds with a thoughtless joke, I brought shame upon myself and my family and added insult to Ms. Logan's injury
Have a tip we should know? tips@mediaite.com