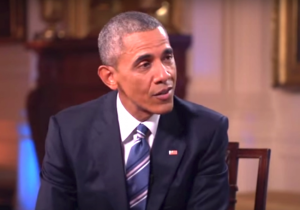 Just as First Lady Michelle Obama blogged for the Huffington Post about children's health advocacy, President Barack Obama has now blogged for Glamour. He's contributed pieces to other publications before, of course, but today's Glamour write-up is special because it's also his birthday!
The title that the editor gave his piece is, "Glamour Exclusive: President Barack Obama Says, 'This Is What a Feminist Looks Like,'" which is fitting because he used his blogging opportunity to address the progress women have made in recent years and why he — "not just as President but also as a feminist" — is relieved to know his daughters will be entering a society less hostile toward women than the one his grandmothers inhabited.
He went on to explain that though women have more opportunities than ever to break free of the oppression that held back previous generations, there is still work to be done advancing women's rights domestically and around the world. The purpose of his piece, it appears, was to explain the role that every reader can play in advancing these efforts and changes.
After explaining how growing up without a father warped his ideas of what masculinity should look like, the president took aim at stereotypes, stigmas, and gender roles. He wrote this:
It is absolutely men's responsibility to fight sexism too. And as spouses and partners and boyfriends, we need to work hard and be deliberate about creating truly equal relationships.

The good news is that everywhere I go across the country, and around the world, I see people pushing back against dated assumptions about gender roles. From the young men who've joined our It's On Us campaign to end campus sexual assault, to the young women who became the first female Army Rangers in our nation's history, your generation refuses to be bound by old ways of thinking. And you're helping all of us understand that forcing people to adhere to outmoded, rigid notions of identity isn't good for anybody—men, women, gay, straight, transgender, or otherwise. These stereotypes limit our ability to simply be ourselves.
You can read the entire piece here.
The post is an interesting move on the part of the Democratic president given that the candidate he endorsed to take his spot, Hillary Clinton, made history last week by becoming the first female nominee for the presidency from any major political party in America.
[image via screengrab]
Have a tip we should know? tips@mediaite.com