Obama To Al Sharpton: View That 'Nothing Is Important Enough' To Raise Taxes Is What 'Binds' GOP
Obama To Sharpton: 'Nothing Is Important Enough' To Raise Taxes Is What 'Binds' GOP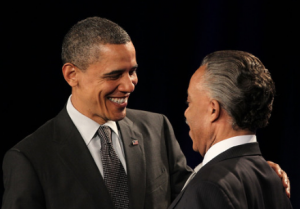 On Thursday, President Obama spoke to Al Sharpton during his radio show, hammering home is argument about how best to avoid the sequester and the devastating impact he's said it would have. Citing the Republican opposition to any further tax increases, Obama argued that view is what "binds" their party.
Sharpton asked Obama about the "pending crisis" known as the sequester — to which the president reiterated his argument about the disastrous effects of those automatic spending cuts. "I don't know if they're going to move," Obama said about the Republicans, stressing the seriousness of the issue by citing meat inspections, mental health service, and childcare.
"Whether or not we can move Republicans to do the right thing is what we're still trying to gauge," he said.
Speaking of Republican opposition, Sharpton said they seemed to understand the impact but doesn't understand why they'd "risk" having the cuts take effect. "It's just going to be something that hits everybody," he said.
"My sense is that their basic view is nothing is important enough to raise taxes on wealthy individuals or corporations," Obama replied. "And they would prefer to see these kinds of cuts that could slow down our recovery over closing tax loopholes, and that's the thing that binds their party together at this point."
Pointing to polling, Obama said a large majority of Americans agree with him on an approach that combines tax revenue with spending cuts. "Unfortunately," he continued, "I think Republicans right now have been so dug in on this notion of never raising taxes that it becomes difficult for them to see an obvious answer right in front of them."
Listen below:

Have a tip we should know? tips@mediaite.com