Obama's Fiery Speech Divides Twitter Between Conservatives (He's 'Lecturing Us') and Liberals (This is 'Leadership')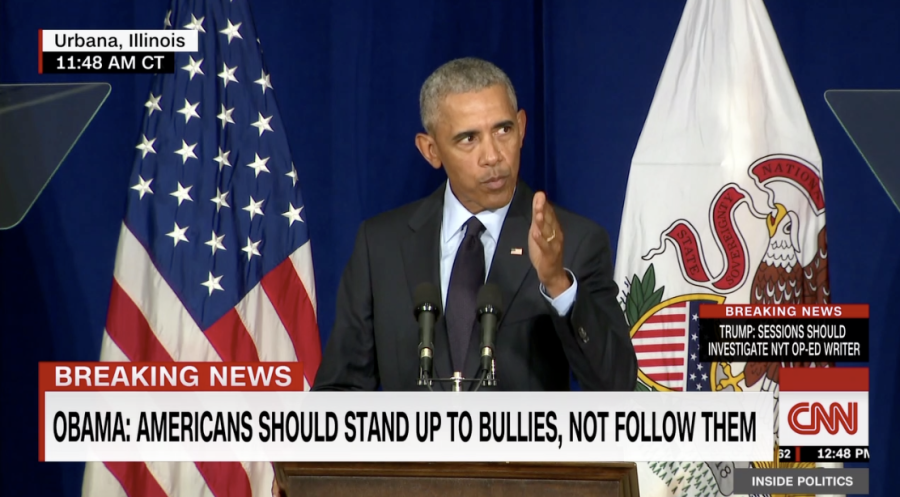 Former President Barack Obama attacked President Donald Trump and Republicans in a spirited speech at the University of Illinois, as well as encouraged a full auditorium to vote in the upcoming November midterms.
"When there's a vacuum in our democracy, when we don't vote, when we take our basic rights and freedoms for granted, when we turn away and stop paying attention and stop engaging and stop believing," Obama said. "The politics of fear and resentment and retrenchment takes hold."
Obama's remarks at the college are the beginning of his efforts to assist the Democratic Party's efforts to flip the House and start a "blue wave."
"Demagogues promise simple fixes to complex problems," Obama continued, presumably knocking Trump. "No promise to fight for the little guy even as they cater to the wealthiest and most powerful."
He continued:
"What happened to the Republican Party? Its central organizing principle in foreign policy was the fight against Communism, and now they're cozying up to the former head of the KGB."
Obama also appeared to reference Trump's response to last year's Charlottesville "Unite the Right" racist sally, saying, "We're supposed to stand up clearly and unequivocally to Nazi sympathizers. How hard can that be, saying that Nazis are bad?"
Pundits and other notable media figures praised Obama's speech, citing it as a return to true American leadership, while conservatives and Republicans claimed that more Obama speeches will result in another presidential term for Trump:
I see Obama is trying to make Grandpa Ranty angry. Betting it works.

— Rick Wilson (@TheRickWilson) September 7, 2018
This is a speech!!!!

— JORGE RAMOS (@jorgeramosnews) September 7, 2018
"Don't boo, vote" is Obama's "Free Bird"

— jordan (@JordanUhl) September 7, 2018
Watching President Obama speak makes me realize how great we were as a nation before trump came to office

— (((DeanObeidallah))) (@DeanObeidallah) September 7, 2018
Obama's speech today is worth watching whether or not you agree with him politically. This is what leadership looks and sounds like.

— Jonathan Franks (@jonfranks) September 7, 2018
This @BarackObama 's speech has a healing power to social and political wounds @realDonaldTrump and those who support him have created in America. We need a common ground and a power of few to make a change

— K.Pavlovic (@ksenijapavlovic) September 7, 2018
you know who's going to take this Obama speech really well

— Dave Itzkoff (@ditzkoff) September 7, 2018
Where we are as a country. pic.twitter.com/LZ3Y2UEBhl

— Matthew Gertz (@MattGertz) September 7, 2018
calling Mexican immigrants rapists and Republican voters really liking that feels more like a proximate cause pic.twitter.com/bWWuuXck5t

— Simon Maloy (@SimonMaloy) September 7, 2018
Baby Bannon points the finger anywhere but at himself https://t.co/uB6IoIj92H

— Tommy Vietor (@TVietor08) September 7, 2018
The more President @BarackObama speaks about the 'good ole years' of his presidency, the more likely President @realDonaldTrump is to get re-elected.

In fact, the best explanation of President Trump's victory are the "results" of the Obama Presidency!

— Lindsey Graham (@LindseyGrahamSC) September 7, 2018
Obama lecturing us is LITERALLY how you got Trump.

— Ben Shapiro (@benshapiro) September 7, 2018
Democrats lost 76 House seats and 15 Senate seats during Obama's terms. Now the former president is determined they never get them back!

— MATT DRUDGE (@DRUDGE) September 7, 2018
You spied on their reporters, seized phone records and personal emails and declared James Rosen an enemy of the state. Holder himself signed the secret search warrant application. https://t.co/UURshaCAaV

— Dana Loesch (@DLoesch) September 7, 2018
There are, however, a lot of experts who point to data showing that the "Obama recovery" was stifled or at least held back significantly by Obama Administration decisions. https://t.co/3gaoDdjqjg

— Bret Baier (@BretBaier) September 7, 2018
Notice how Obama kept talking about racism, being racist, acting racist & looking racist. The black struggles & divide. This is merely a Democrat tactic to keep you stuck in the pain of your ancestors. Don't be fooled by the tools used to keep your mind and behind stuck in a rut.

— Diamond and Silk® (@DiamondandSilk) September 7, 2018
[image via screengrab]
Follow the author on Twitter (@calebecarma).
Have a tip we should know? tips@mediaite.com