Keith Olbermann Asks 'Where Are GOP Politicians' Condemning Koran Burning Event?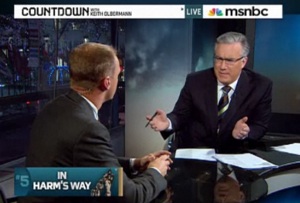 There's a media storm brewing over a Florida church's plan to hold a "Burn a Quran Day" event this Saturday, on the anniversary of the September 11th attacks. Tonight on Countdown with Keith Olbermann, the host took aim at the event, but not from the religious-freedom perspective some viewers would expect.
Terry Jones, the pastor of the Dove World Outreach Center claims that his church is holding the event in order to "bring to awareness to the dangers of Islam" and declare it "a violent and oppressive religion that is trying to mascarade [sic] itself as a religion of peace."
Tonight Keith Olbermann addressed the topic, ignoring the intentions of the church and instead framed the effort to stop the Quran burning as "a practical issue," rather than an academic or fringe discussion. To illustrate that point, he invited Staff Sergeant Todd Bowers, a veteran of the conflict in Afghanistan, to speak on the issue. He came with personal examples where Koran burning lead directly to increased attacks and the destruction of many advances American troops had made with local leaders.
General David Petraeus, Commander of U.S. Forces Afghanistan has already gone on record saying that this behavior will make its way back to Afghanistan and put U.S. servicemen in harms way. White House Press Secretary Robert Gibbs echoed that point this afternoon, saying this type of event, "is a concern to this administration."
As the Olbermann clip below shows, Pastor Jones has heard these concerns but will likely continue with the event saying his message is too important to push aside.
Click below to watch Staff Sergeant Bowers discuss his experiences in Afghanistan on Countdown with Keith Olbermann:
Have a tip we should know? tips@mediaite.com