Oprah's Best Friend: 'Obama Has Done Everything That He Said He Was Going To Do"
After Saturday's White House Correspondents Dinner, CBS anchor and Oprah Winfrey's best friend Gayle King told the Daily Caller:
President Obama has done everything that he said he was going to do and I think people keep forgetting that. People keep forgetting. He talked about health care, he talked about Osama bin Laden, he talked about 'don't ask, don't tell,' he's done everything that he said he was going to do.
Oh, that's just rich.
Sure, I'll give President Obama the killing of Osama bin Laden. And yes, thankfully, he ended "Don't Ask, Don't Tell." And yes, he did follow through on "reforming" health care (albiet by creating a system that enriches the insurance corporation at the expense of patients and physicians).
But it is just blind allegiance to say that the president has "done everything he said he was going to do."
First, here's an obvious one: Guantánamo Bay. Remember when candidate Obama promised to close the detention center and "restore habeas corpus"? Yeah, never happened.
Here's another: Remember when candidate Obama said, in 2007, "I would not have the Justice Department prosecuting and raiding medical marijuana users. It's not a good use of our resources"? Yeah, that never happened either. The Obama DOJ raids pot dispensaries like it's 2007 and George W. Bush is still president.
But wait, there's more! In 2007, candidate Obama repeatedly promised a "net spending cut." So much for that. Since taking office, the president racked up more than $5 trillion in new debt. The CBO pointed out that in Obama's first year, federal spending "rose even faster […] than revenues fell," and the "rate of increase was nearly three times the average growth rate of federal outlays over the previous 10 years."
Candidate Obama also promised: "When there's a bill that ends up on my desk as President, you the public will have five days to look online, and find out what's in it before I sign it." That, of course, was a broken promise. He signed his first bill, the Fair Pay Act, before the five day mark. Same thing with the Credit Card Bill of Rights and his expansion of SCHIP, among other bills.
I would suggest Gayle King to check out PolitiFact's report on the president's promises. According to this helpful chart, Obama has only kept 35% of his promises: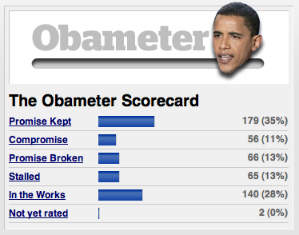 That's a far cry from "doing everything he said he was going to do."
Watch the Daily Caller's interview with Gayle King below:
Have a tip we should know? tips@mediaite.com