Limbaugh Slams CNN's Suzanne Malveaux Over Correspondents Dinner Tweets To Celebs, Obama
Limbaugh Slams CNN's Suzanne Malveaux Over Correspondents Dinner Tweets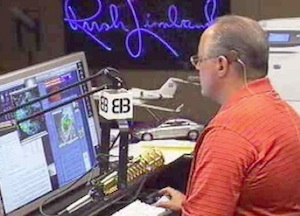 Conservative radio host Rush Limbaugh slammed CNN anchor Suzanne Malveaux on Monday during his radio program over what he described as her "over the top" tweets praising President Barack Obama, his advisors and the myriad celebrities she photographed herself with on Saturday night's White House Correspondents' Dinner.

RELATED: Watch Suzanne Malveaux Ask An Awkward Tim Tebow About His Love Life
Limbaugh opened his Monday program by singling out Malveaux's Correspondents' Dinner tweets as being indicative of the self-congratulatory evening that celebrates the press and politicians.
"Politics is "showbiz for the ugly,' and that's what the White House Correspondents Dinner was," said Limbaugh. "It's their big Oscar night. It's where they all get together and, um, it's a circle… thing."
"I haven't seen this kind of 'groupie-ism' in years," Limbaugh said of Malveaux's Saturday night tweets in which the CNN anchor spent the majority of her night taking photos with celebrities and sending them Twitter shout outs. "She was just – I mean, totally enthralled being anywhere near Obama."
Malveaux tweeted prior to the event that she ran into senior White House advisor Valerie Jarrett who she described as the President's "BFF."
Someone you'd expect at #pregame #nerdprom @barackobama's BFF Valerie Jarrett twitter.com/SuzanneMalveau…

— Suzanne Malveaux (@SuzanneMalveaux) April 28, 2012
Malveaux asked if she was "homegirls" with Current TV host and former Democratic Michigan Gov. Jennifer Granholm.
@jengranholm at #nerdprom #whcd Fmr Michigan governor now in SF. I was born in Lansing. Does that make us homegirls? :) twitter.com/SuzanneMalveau…

— Suzanne Malveaux (@SuzanneMalveaux) April 29, 2012
Malveaux tweeted a number of pictures of her with celebrities on the night of the Correspondents' Dinner:
@evalongoria #nerdprom #whcd nice meeting you. Love your passion for education, Latino issues. Not a bad party! twitter.com/SuzanneMalveau…

— Suzanne Malveaux (@SuzanneMalveaux) April 29, 2012
@davidarquette very passionate about bringing arts back to schools. Talked a lot about #gardenparty # nerdprom #whcd twitter.com/SuzanneMalveau…

— Suzanne Malveaux (@SuzanneMalveaux) April 28, 2012
#pregame at #gardenparty for #nerdprom #whda @woodyharrelson talks about his role in #gamechange twitter.com/SuzanneMalveau…

— Suzanne Malveaux (@SuzanneMalveaux) April 28, 2012
@DaveChappelle on Fri trying to score #whcd tix, by Sat night we're doing soul train line #NerdProm twitter.com/SuzanneMalveau…

— Suzanne Malveaux (@SuzanneMalveaux) April 29, 2012
Limbaugh described Malveaux's tweets as "just over the top."
"It was like high school. It was like being invited into the big clique," said Limbaugh. "She couldn't believe how cool he was. How cool it was to be in the same room with Obama. And I thought, hasn't this woman covered the White House I her career?"
Listen to the segment below via the Rush Limbaugh radio program:
h/t Daily Rushbo
Have a tip we should know? [email protected]