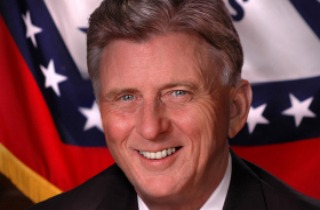 It pays to be the son of an elected official, apparently.
Outgoing Arkansas Gov. Mike Beebe will issue a pardon to his own son after his felony marijuana conviction in 2003. Beebe, a two-term governor who is leaving office in January, has issued more than 700 pardons since taking office in 2007, and will reportedly announce his son's pardon in early December.
"A significant number of those have been young first time drug offenders because [Gov. Beebe] believes that if you make a mistake especially with nonviolent crime and you straighten your life out, you deserve a second chance," Beebe's spokesperson Matt DeCample told the Associated Press. "There's no reason why he wouldn't hold his son to that same standard."
Kyle Beebe, the governor's son, reportedly did not ask for a pardon until June of this year.
"I would have done it a long time ago if he'd have asked, but he took his sweet time about asking," Gov. Beebe told KATV. "He was embarrassed. He's still embarrassed, and frankly, I was embarrassed and his mother was embarrassed. All of the families that go through that, it's tough on the families, but hopefully the kids learn."
According to the Associated Press, Kyle was sentenced to three years of supervised probation, had his driver's license suspended for six months, and had to pay $1,150 in fines and court costs.
And now, after almost 12 years, his own father is pardoning him.
[Image via screengrab]
— —
>>Follow Andrew Desiderio (@forza_desiderio) on Twitter
[Note: Mediaite intern Andrew Desiderio is a student at The George Washington University.]
Have a tip we should know? tips@mediaite.com