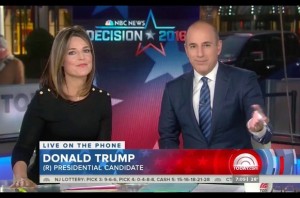 On the NBC Today Show Wednesday morning, Donald Trump continued his tour de force with a phone interview from Iowa fresh off of the yuge endorsement heard from Manhattan to Anchorage. NBC's Savannah Guthrie pressed the real estate mogul on the logical follow-up question to the endorsement:
"Would you consider [Sarah Palin] as your running mate?"
In short, Trump refused to answer.
He certainly tried, however, in the best Trump-speak way possible; he tossed in unprovoked talking points while attempting to dance his way through the mine field of media explosions that would occur at the slightest inference of a Trump-Palin ticket.
"I don't think it's something that she would want to do," is how Trump began his response. For those of you following along at home, that wasn't Guthrie's question.
He continued to discuss how Palin "never made a deal" regarding her support for the GOP frontrunner, noting how the former Alaska Governor seemed drawn to the new brand of politics from the Trump campaign trail.
The veteran Guthrie saw right through Trump's wiggle. "But to the question: would you consider it?" Guthrie pressed.
"No, I haven't discussed it with her," he un-responded. "Certainly she could play a position if she wanted to."
When Guthrie dug in and clarified "You wouldn't rule her out as VP?", the momentary pause in Trump's voice was telling.
"I don't think she'd wanna do it," replied the Great Dancing Man with New York values. "Certainly there'd be a role somewhere in the administration," he admitted.
Watch the above video from NBC.
[image via screengrab]
—
J.D. Durkin is the Senior Editor of Mediaite. You can follow him on Twitter @MediaiteJD.
Have a tip we should know? tips@mediaite.com