Brzezinski Slams the DNC for Debate Schedule While Bernie Still Surges: 'You Screwed Yourself'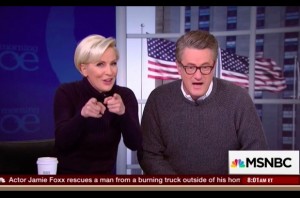 On Morning Joe Wednesday, cohost Mika Brzezinski dug in against the Democratic National Committee and namely its Chair Debbie Wasserman Schultz for the popularized idea that the party has attempted to stifle its debate schedule to protect frontrunner Hillary Clinton. The conversation came on the heels of the newest polling data out of New Hampshire that suggests a strong double-digit lead for the self-described Democratic-Socialist Senator from neighboring Vermont, Bernie Sanders.
Despite being a Democrat herself, Brzezinski — who has long been critical of Democratic frontrunner Clinton — slammed the DNC for its attempt to stifle competition, which now appears to be backfiring. "It's good that everybody ignored [Sanders] so much," noted Brzezinski. "And thought that he was just this crazy Socialist that would go away."
Brzezinski continued sarcastically, "It was really smart of the Clinton campaign actually and the DNC — the DNC trying to control the election by making less debates. Good on ya!"
Then, defiantly: "You screwed yourself."
Former Bush administration Communications Director Nicolle Wallace can be heard simply saying "Wow" to Brzezinski's assessment of the situation.
As Joe Scarborough attempted to move the conversation, Brzezinski continued to toss in words to further her point, including invoking the name "Debbie". She continued, "Thank God you controlled that debate thing, 'cuz that really worked out."
The accusations lobbed at Wasserman Schultz are hardly new ones; members of the media have long questioned the Democratic party's choice of debate date and times, often opting for weekend night slots competing against highly-anticipated sports events, or in the case of this past weekend, primetime award shows.
Watch the above video from MSNBC.
[image via screengrab]
—
J.D. Durkin is the Senior Editor of Mediaite. You can follow him on Twitter @MediaiteJD.
Have a tip we should know? tips@mediaite.com