Palin Unloads on 'Intolerant Left,' Turns Duggar Story into Rant Against Lena Dunham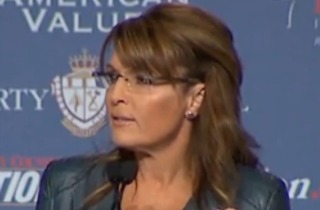 Sarah Palin went on a pretty fiery rant on her Facebook page this afternoon against the "intolerant left" for their "double standards" when it comes to the Duggars.
And there's a lot to process here.
Right off the top she says this: "HEY LENA, WHY NOT LAUGH OFF EVERYONE'S SEXUAL "EXPERIMENTS" AS YOU HAUGHTILY ENJOY REWARDS FOR YOUR OWN PERVERSION? YOU PEDOPHILE, YOU."
She's referring there to actress Lena Dunham, who wrote a passage in her book, about her sexual curiosity, involving her little sister that really set off the conservative blogosphere. Palin says liberals are hypocrites for not caring about that but "crucifying" the Duggars.
She even links to her own daughter Bristol's post on the issue, who wrote, "The double standards make me sick."
But getting back to Palin's Facebook post, the former VP candidate insisted, "I'm not defending the Duggar boy's obvious wrongdoing over a decade ago. The main victim in any story like this isn't the perpetrator, it's the innocent ones so harmfully affected."
She says she's "sickened" by the media, rips the "unethical leak" of the police report, and really keeps hammering home the double standard point:
The media's hell-bent mission to go after the entire Duggar family for one member's wrongdoing, while giving a total pass to perverted actions of someone like Lena Dunham – or any other leftwinger celeb caught doing awful things. Remember reports of the pedophile billionaire our former democrat president has been friends with and hung out with on the pedophile's "orgy island" full of underage girls?

Such obvious double standards applied to equally relevant stories underestimate the wisdom of the public, discredit the press, and spit on the graves of every American who fought and died for the press's freedom.
You can read Palin's full post here: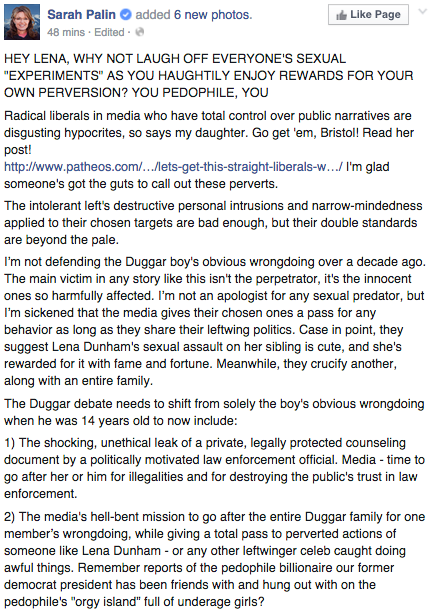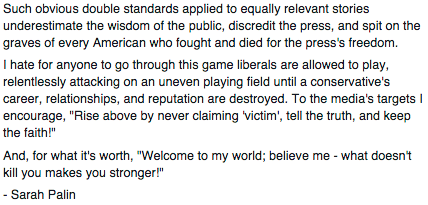 [images via screengrab]
— —
Follow Josh Feldman on Twitter: @feldmaniac
Have a tip we should know? tips@mediaite.com
Josh Feldman - Senior Editor