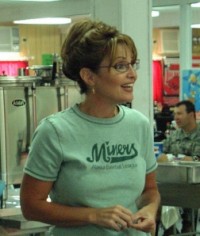 Former Alaska Governor Sarah Palin's spokesperson Meg Stapleton disputed reports of an impending divorce in a rather unique way today. After the website AlaskaReport.com posted an unsourced rumor suggesting that not only were Palin and husband Todd not speaking to one another at her resignation speech last week, but that divorce papers were soon to be filed, Palin's Facebook page quickly fired back an official response:
Here's the original story AlaskaReport.com filed earlier today:
AlaskaReport has learned this morning that Todd Palin and former Alaska governor Sarah Palin are to divorce. Multiple sources in Wasilla and Anchorage have confirmed the news.

A National Enquirer story exposing previous affairs on both sides led to a deterioration of their marriage and the stress from that led to Palin's resignation as governor of Alaska.
This is the response that appeared on Sarah Palin's Facebook Page this afternoon:
Yet again, some so-called journalists have decided to make up a story. There is no truth to the recent "story" (and story is the correct term for this type of fiction) that the Palins are divorcing. The Palins remain married, committed to each other and their family, and have not purchased land in Montana (last week it was reported to be Long Island).

Less than one week ago, Governor Palin asked the media to "quit making things up." We appreciate that the more professional journalists decided to question this story before repeating it.

Meg Stapleton
While some might criticize her non-traditional approach, Palin does appear to be embracing a Web 2.0 strategy for communications.
Mediaite's Tommy Christopher has more.
Have a tip we should know? [email protected]