Pat Buchanan's Departure From MSNBC: A Case Of Not Wanting To Rock The Liberal Boat?
Buchanan's Departure From MSNBC: A Case Of Not Wanting To Rock The Liberal Boat?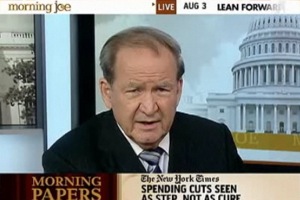 Note – this post first appeared on Inside Cable News and appears here with their consent.
Wow…Joe Scarborough put out a statement on Pat Buchanan on Politico. It had to have been cleared by MSNBC, otherwise he'd be in a peck of trouble right now. Given that it was cleared doesn't lessen the impact of this "Bad call by my bosses" statement:
"Everyone at Morning Joe considers Pat Buchanan to be a friend and a member of the family. Even though we strongly disagree with the contents of Pat's latest book, Mika and I believe those differences should have been debated in public. An open dialogue with Morning Joe regulars like Al Sharpton and Harold Ford, Jr. could have developed into an important debate on the future of race relations in America.

Because we believe that sunlight is the best disinfectant, Mika and I strongly disagree with this outcome. We understand that the parting was amicable. Still, we will miss Pat."
Joe sums up my feelings pretty well. But I'll go further. MSNBC, by its actions, has laid down a marker regarding interest group politicking and the ideological divide crossing the chasm into the newsroom.
I have said this before and Brian Stelter all but said it last week; this decision has less to do with Buchanan and his views than it does with MSNBC and its hard left turn in primetime (and much to my consternation increasingly in daytime), and its not wanting to rock the liberal boat on which it sails and is increasingly becoming beholden to.
Buchanan hasn't changed. MSNBC has changed. And not for the better.
If you sell your soul for ratings gold, what do you have left when you look in the mirror?
Have a tip we should know? tips@mediaite.com