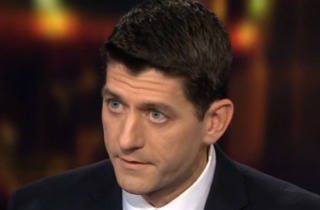 "I have decided that I am not going to run for president in 2016," Rep. Paul Ryan (R-WI) declared today in an interview with NBC News.
Whereas other potential nominees can dance their way around throwing their hat into the ring with carefully-worded statements about "having no plans", Ryan, Mitt Romney's running mate in 2016, was definitive. "It is no secret that I have always thought Mitt would make a great president," he told NBC. "As for his plans for 2016, I don't know what he is ultimately going to do and the last thing I want to do is get ahead of his own decision making process.
It will be "bittersweet not being on the trail," he said, but noted he was "at peace" with the decision he made "weeks ago" to step out of the race.
Instead, Ryan will bring his "undivided attention" to being chairman of the powerful House Ways and Means Committee. "I feel like I am in a position to make a big difference where I am and I want to do that," he said.
But he has to be coy about one thing, and that thing is who he's going to support:
But, Ryan added, he believes that a Republican can "absolutely" win.

"I think we've got a number of very capable candidates who have every ability to become president. There are a lot of talented people," he said. "I think it is critical that our party puts forward bold, conservative ideas and give people a choice. I think we have a number of capable leaders who can do that."
[NBC News]
[Image via screenshot]
—
>> Follow Tina Nguyen (@Tina_Nguyen) on Twitter
Have a tip we should know? [email protected]