Peter King Brutally Bashes 'Phony' Cruz, Hopes New Yorkers Give Him Cold Shoulder 'and Other Things'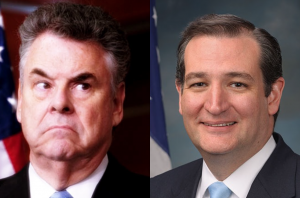 New York state representative Peter King is not one to hold his tongue on his true feelings about anything, so did you think the outspoken pol wasn't gonna dig in on Ted Cruz today? Fuhgeddaboudit.
During an appearance on The Joe Piscopo Show on AM 970 THE ANSWER Thursday morning, Rep. King slammed the Texas Senator amid the controversies he's facing in — and prior rhetoric about — New York. Just twelve days before the New York primary, Cruz is on major damage control on the campaign trail after a disastrous day in the Bronx saw Cruz getting booed, heckled, and become subject of a big F-U from the New York Daily News.
"Let me say something about the New York primary," King told Piscopo in no uncertain terms. "Any New Yorker who even thinks of voting for Ted Cruz should have their head examined. Really, here's a guy who refused to sign onto the 9/11 health care act for the cops and fireman. Here's a guy who talks about New York values."
King continued,"To me, New York values is what people did after 9/11," invoking a similar response to the infamous Cruz critique that Donald Trump has been using on the campaign trail.
"We're tough, and to have some guy like Ted Cruz with cowboy boots walk around criticizing us. Listen, I hope he gets the cold shoulder and other things from every New Yorker. Send him back where he belongs. He's a phony," noted the representative.
Of course, the criticism of the Texas Senator is unsurprising considering the fact that in March of last year, King threatened drastic personal action if Cruz ever won the party nomination — "I will jump off that bridge when we come to it." Although King seems to have aligned his views on this issue with those of GOP frontrunner Trump, King was an avid supporter of Florida Senator Marco Rubio's bid for the party nom.
During the exchange, Piscopo loved every second of King's candor. "Peter I love the way you're honest on the radio, man." Listen to the above clip from SoundCloud and The Joe Piscopo Show.
[h/t Buzzfeed]
Have a tip we should know? tips@mediaite.com