Pharrell: Wilson Should Be Punished, but Why Don't We Talk About What Made Brown Act 'Bully-ish'?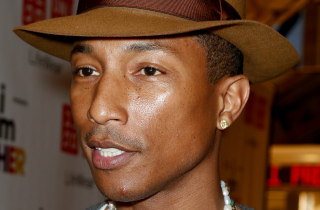 In a wide-ranging interview with Ebony magazine, musician and producer Pharrell Williams shared his thoughts on Ferguson, admitting that some of his views on the story might get him "in trouble."
"I felt like the president should have gone down there," the hit-maker and current judge on NBC's The Voice told the magazine. "He didn't have to go and take a side; all he needed to do was show his presence and everybody would have straightened up."
In the interview, which took place well before Monday evening's grand jury decision not to indict Officer Darren Wilson for the death of 18-year-old Michael Brown, Williams said the video of the late teenager robbing a convenience store minutes before his death "looked very bully-ish."
"That in itself I had a problem with," he explained. "Not with the kid, but with whatever happened in his life for him to arrive at a place where that behavior is OK. Why aren't we talking about that?"
Ebony suggested that remark was reminiscent of comedian Bill Cosby's long-standing wish for the black community to look inward on racial matters.
"I agree with him," Williams said. "When Cosby said it back then, I understood; I got it. Listen, we have to look at ourselves and take action for ourselves. Cosby can talk that talk because he created Fat Albert, he tried to buy NBC, he portrayed a doctor on The Cosby Show and had all of us wearing Coogi sweaters. You've got to respect him."
However, the songwriter asserted, "I believe that Ferguson officer should be punished and serve time. He used excessive force on a human being who was merely a child. He was a baby, man." The "Happy" singer continued:
The boy was walking in the middle of the street when the police supposedly told him to 'get the f–k on the sidewalk.' If you don't listen to that, after just having pushed a storeowner, you're asking for trouble. But you're not asking to be killed. Some of these youth feel hunted and preyed upon, and that's why that officer needs to be punished.
Asked about the militarized police response to the initial Ferguson protests, Williams asked "Why do you need that equipment in the inner city? There was a lot of excessive force used, and that's why I felt President Obama needed to be there." He suggested that "the hangover from Ferguson is going to be a long one, worse than Trayvon Martin."
Asked whether racism still exists, Williams pointedly answered: "Yes."
Read the full interview here.
[Image via Shutterstock.com]
— —
>> Follow Andrew Kirell (@AndrewKirell) on Twitter
Have a tip we should know? tips@mediaite.com