Piers Morgan Bans Dana Loesch From His Show Over 'Glib' London Beheading Tweet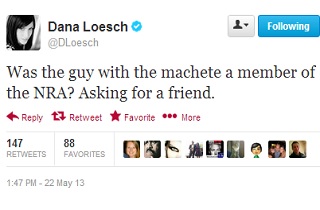 It's hard to believe it, but CNN's Piers Morgan was shocked to learn, Wednesday night, that conservative radio host and frequent Piers Morgan Tonight guest Dana Loesch says things that are horrible and/or make absolutely no sense. Loesch tweeted "Was the guy with the machete a member of the NRA?", a reference to one of the two men who murdered a British soldier in what has been described as a terrorist attack in London today. Morgan chastised Loesch for being "glib" about the soldier's death, and later announced that he was banning the conservative provocateur from his show.
Here's how it went down:
Dana Loesch 9h Was the guy with the machete a member of the NRA? Asking for a friend.

Piers Morgan 9h You think the beheading of a soldier is something to be glib about??? > RT @DLoeschWas the guy with the machete a member of the NRA?

Dana Loesch 9h As opposed to you calling me Nancy Lanza because I stood up for 2A rights? Get real, @piersmorgan.

Piers Morgan 9h No @DLoesch – there is a time to shut up with stupid political wisecracks, and this is one of those times. Show some bloody respect.

Dana Loesch 9h That's rich coming from you, @piersmorgan . You stood on the graves of children and attacked my family. Get some consistency.

Piers Morgan 9h Can't stomach @DLoesch goading Brits with her outrageous tweeting re beheaded soldier story. Unfollowed, and banned from my show.
It wasn't over for Loesch, who updated her Twitter profile to read "Proudly banned from Piers Morgan's TV show," then tried to explain her comment, in totally sensical fashion. Although her tweet explicitly referenced the armament of the attacker and appeared to be an attempt to point out that even without guns, a person can be killed, that wasn't it at all:
There are a lot of people who want me to die because I think soldiers should be protected and able to defend themselves.
So, the tweet about the attacker not having a gun was actually about wishing the soldier had had a gun? Or was it this other explanation, which Loesch posted on her website:
Following the news that an unarmed ritish soldier was beheaded in broad daylight, Loesch, an ardent proponent of self-defense, took a page from the liberal handbook and sarcastically asked if the attacker was an NRA member. After all, the Left's knee-jerk response to deadly crimes is to blame the NRA, right?
Right, that's what I thought she was saying, too, like, "In your face, gun-grabbers, knives kill too!"
It was a classic Dana Loesch wisecrack, "edgy" and "provocative," so why run away from it? She's probably right, there are probably lots of people who tune in to Piers Morgan to watch her do this exact schtick (or did), and now, he'll have to do without them.
Have a tip we should know? tips@mediaite.com