Playboy's Interview With Levi Johnston's Sister Includes Palin Family Drug Allegations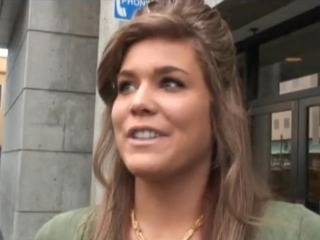 Squished somewhere in between images of airbrushed ladybits, the September issue of Playboy will include an interview with Mercede Johnston, sister of Bristol Palin's former boyfriend, Levi Johnston. Following closely in her brother's footsteps, Mercede not only poses nude in the issue, but also offers a slew of salacious tidbits about her famous would-be in-laws, including rumors of drug abuse.
Johnston alleges that Track Palin, the elder (and rarely seen) son of Sarah Palin, was forced by his mother to enter the army once she was announced as John McCain's running mate in 2008. One possible reason Palin wanted her son out of the way? Mercede says that Track, whom she dated briefly, "did OxyContin but mostly cocaine." She adds that Bristol, with whom her brother has a young child, is a "sociopath" who would routinely steal her parents' credit cards, send nude photos to admirers and use poor, poor Levi as a prop:
She literally took Levi from a hunting trip and flew him to the Republican convention. He didn't have a choice. … She doesn't care, as long as she's going to the top. But it's screwed my whole family up. Levi was a prop, and once they didn't need him he was out the door.
Mercede also claims that Bristol and Levi had been trying to conceive "for months," and that their teen pregnancy was, in fact, very much planned.
And then there's this (anonymous) claim about Sarah herself, via The Fix:
The Playboy story goes on to recount much sketchier allegations against Sarah Palin, who is still debating a presidential run. The author cites an anonymous source who "makes the incredible claim to have snorted coke with [Sarah] at the Mug Shot [a local bar in Wasilla] and points to the very spot on the bar where said lines were cut up."
Ok then!
Whatever Track did or did not do in his spare time in the past, however, he's guaranteed a busy future: Reporter Joe McGinniss, who is writing a book about the Palins, blogged that the 22-year-old and his wife, Britta, welcomed their first child this weekend. Track is now father to a little girl — Kyla Grace Palin. So far, the couple has not released photographs of their new child.
h/t The Fix and People.com
Have a tip we should know? tips@mediaite.com