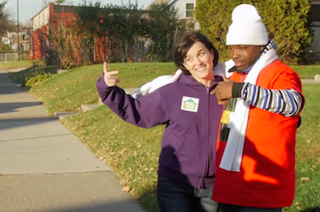 One week ago, Minneapolis Mayor Betsy Hodges became an internet sensation after local police accused her of "flashing a known gang sign" with a fellow campaign volunteer, spawning the hashtag #pointergate. After many commentators, including Jon Stewart, came to her defense for doing what was clearing an innocuous pointing gesture, Hodges has finally come out with a statement of her own.
Posted to her Twitter account and official website Thursday evening, the statement meticulously breaks down just how ridiculous the accusations against her have been and even uses some light sarcasm to hit the point home.
She runs down four options for what the head of the police union, who said she "should know better" thinks she should do. They include "stop pointing altogether for the safety of the community," stop "interacting with the public" and stop "standing next to young African American men." Ultimately, she concludes that only one of the options makes sense:
It could be that the head of the police union wants me to stop working to raise the standards of police culture and accountability. It could be that he objects to the community policing and relationship-building measures that I am acting on, and attempted to use this non-story to discredit this work.

I share the public's speculation that this is the real option.
Read the full statement at mayorhodges.com.
Watch the original news report on the incident below, via KSTP-TV:
[Photo via screengrab]
— —
>> Follow Matt Wilstein (@TheMattWilstein) on Twitter
Have a tip we should know? tips@mediaite.com