Poll Confirms All the Worst Things You Believe About Washington D.C. Residents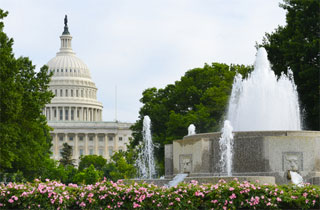 A new poll confirms everything you've likely suspected about people who live in our nation's capitol: Compared to everyone else in the nation, residents of Washington, D.C. are most likely to trust the media, and least likely to trust their neighbors.
The poll was a joint effort between Serve DC, the mayor's Office on Volunteerism, and the National Conference on Citizenship, and managed, with hard data, to portray the majority of DC residents as politically-rabid, possibly sociopathic, paranoid, careerist lemmings.
According to the report, entitled "District of Columbia Civic Health Index," D.C. residents topped the nation in voter turnout in 2012, and trusted the media most. However, D.C. ranked dead last in two categories: "trusting all or most neighbors," and "eating dinner with a member of the household frequently." These are things that well-adjusted people are normally good at, though we suppose it's different when your career could be made or broken by selling out your neighbor.
Unsurprisingly, they lead the nation in talking about politics with friends and family. Just not actually having quality dinner time with them.
(Also not surprising: D.C. ranked 49th out of 51 in "exchanging favors with neighbors frequently.")
In all seriousness, these types of findings aren't good for the civic health of a community, to say nothing of the fact that it's the community that "runs" America, and presents some key challenges that the District needs to overcome. Problem is, the solution is so antithetical to the culture of DC:
"This report is an important first step in building on our civic strengths and addressing our challenges, especially in developing our neighborliness and trust in one another," said Jeffrey D. Richardson, Serve DC Chief Service Officer and Executive Director.
Haha.
(Full disclosure: I lived in Washington D.C. for nearly a little bit and, barring some wonderful friendships I built, it was one of the most miserable experiences of my life.)
[h/t The Washington Examiner]
[Image via Shutterstock]
— —
>> Follow Tina Nguyen (@Tina_Nguyen) on Twitter
Have a tip we should know? [email protected]