Pollster Frank Luntz: If You're a Young Millennial Socialist You're Totally Getting Laid Tonight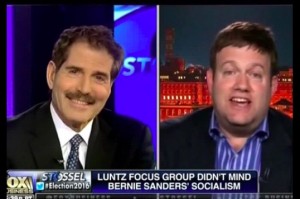 Fox News resident pollster and Quahog doppelganger Frank Luntz took to the airwaves on Fox Business Friday night to chime in on John Stossel's fight against the rising popularity of the evil "s" word: socialism.
Stossel dedicated his entire show Friday night — aptly titled "Road to Socialism?" — by tackling the misconceptions of socialist thought and why Bernie Sanders is way off his rocker. But when it came time to tap into the eager minds of the millennial vote that seem inextricably drawn to the 74-year-old Vermont Senator, Stossel turned to Luntz. After all, if there's one thing that screams voice of the millennial generation, it's Frank Luntz.
To describe just how down the kids are with the Bern these days, 53-year-old Luntz described it to 68-year-old Stossel this way:
If you are a young person and you tell someone of the opposite sex that you are a socialist you are much more likely to get some action at the end of the evening. Why? Because being a socialist in 2016 among college kids is really cool. If it's cool today, it's going to change American politics tomorrow.
Listen, I for one think it's great that viewers everywhere were treated to Frank Luntz discussing 20-something sex so casually on Valentine's Day weekend. So there you have it folks; if you're sitting at a table with a reservation for lonely this weekend while others enjoy their hallmark cards and candygrams, just remember you're guaranteed some poontang if you drop some sweet Sanders socialist swag. Just cozy on up to the pretty young thing at the end of the bar and whisper in his/her ear, "Hey baby, are you a big bank? 'Cuz I'm 'bout to break dat ass apart!" just like Frank Luntz says you should.
Where were we? Oh right. Stossel ended his "Road to Socialism?" special with the defiant words, "No, let's not continue down this road to socialism." Although, if you did, chances are apparently pretty good you're getting laid this weekend.
[image via screengrab]
—
J.D. Durkin is the Senior Editor of Mediaite. You can follow him on Twitter @jiveDurkey.
Have a tip we should know? [email protected]