Former Tea Party NY State Senate Hopeful Busted Carrying Multiple Weapons and a Ski Mask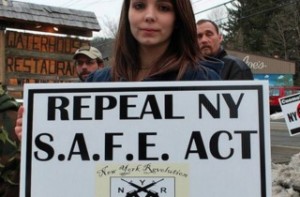 In 2014, Gia Arnold ran for a seat in the New York State Senate and was backed heavily by the Tea Party. In 2016, she has been arrested on weapons charges.
Arnold, 25, and her 18-year-old boyfriend, Halim Johnson, were pulled over last night in Niagara Falls. Police found an assault rifle, a handgun, a knife, and a ski mask in the car. She was given felony weapons charges.
A fundraiser has been set up so that "patriots" can donate to Arnold's legal fees. Its creator, Andrew Hollister, explained the situation like this:
On Feb 10th Gia Arnold and her boyfriend became victims of the NYS (UN)Safe Act and racial profiling … After a while they were pulled over by the cops. After being asked the usual questions (criminal history, etc) they started accusing her boyfriend of being a drug dealer and having illegal drugs in the car … When Gia said they would no longer answer questions (a right protected by the Constitution) she was arrested for "Obstructing the duty of a Government Official" (sound like Oregon anyone?). Following her arrest her vehicle was searched for these drugs they were so sure they had. No drugs were found. But a Non-Compliant rifle under the NY (UN)Safe Act was found. This rifle was never considered illegal before the (UN)Safe Act was passed into law, and many citizens consider this law null and void since it infringes on our 2nd Amendment rights.
By Hollister's reasoning, since "many citizens" don't believe in the law, there is no reason for the mother of three to have been arrested. That's not really how laws work but she campaigned on a platform promising to repeal that very act, so she is chief among those citizens. Her campaign fell apart after her participation in an extramarital affair came to light.
$2,460 has been raised out of the $20,000 goal.
h/t Gawker
[image via screengrab]
For more from Lindsey, follow her on Twitter.
Have a tip we should know? tips@mediaite.com