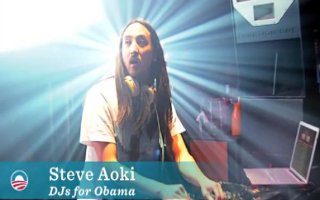 President Obama's re-election campaign is now targeting a key group of American voters: fans of electronic dance music.
If you ever thought to yourself: "Gee, I wonder who Steve Aoki is voting for this year?" look no further: he supports Obama. And he wants you to do the same.
In a new ad put out by the Obama campaign, "DJs for Obama" makes the case for re-electing the president, with brilliant narration from DJ Cassidy: "DJs are about motivation, inspiration, celebration. That's why I think it makes such perfect sense to not only celebrate this man, but motivate people to re-elect him."
He continues to make the case for Obama with this hilarious bit of oblivious nonsense:
"Number one: have an opinion. Learn the issues, watch the news, follow your leaders on Twitter or Facebook. Number two: go with Barack Obama."
So… which is it? Make an informed decision on my own, or listen to DJ Cassidy and "go" with Barack Obama? So many tough choices!!
He continues:
"Use your talent to help in any way possible. If you're a painter, paint a campaign poster. If you're a sewer, sew a campaign tee shirt."
That's deep. So if you're a club promoter, promote a campaign club. If you're a beat-dropper, drop a campaign beat. And if you're a glow-stick manufacturer, manufacture a campaign glow-stick.
The ad shows a slew of deejays who have signed on with "DJs for Obama," including Aoki, DJ Rashida, and DJ Irie. However, well-known DJs like Skrillex and Deadmau5 are absent from the video, and so we have yet to find out whether Obama will capture the "I like to listen to the sound of dying horses" sect of the population that actually enjoys listening to Skrillex. (Spare me, Skrillex fans. You're just like insufferable Phish fans with the "You have to see them live, man" crap.)
Watch the ad below:

[h/t Stereogum]
— —
>> Follow Andrew Kirell (@AndrewKirell) on Twitter
Have a tip we should know? tips@mediaite.com