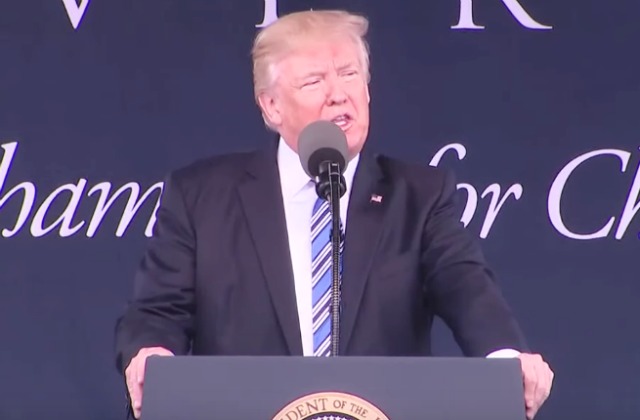 Today is finally election day in Georgia's special congressional election. — Yes, we're happy it's over too.
The battle for the 6th district seat once held by ex-Speaker of the House Newt Gingrich has consumed both parties in recent weeks, becoming the most expensive House race in U.S. history. The nail biter contest pits Republican Karen Handel against Democrat Jon Ossoff.
Like much of the political peanut gallery, President Donald Trump has also been keenly following the contest. On Tuesday, the Commander in Chief took to Twitter to issue his closing argument for Handel and slamming her challenger.
His final pitch ultimately took a traditional GOP flavor, praising Handel for championing "lower taxes" and "strong security" and hitting Ossoff as a tax and spend liberal.
Democrat Jon Ossoff, who wants to raise your taxes to the highest level and is weak on crime and security, doesn't even live in district.

— Donald J. Trump (@realDonaldTrump) June 20, 2017
KAREN HANDEL FOR CONGRESS. She will fight for lower taxes, great healthcare strong security-a hard worker who will never give up! VOTE TODAY

— Donald J. Trump (@realDonaldTrump) June 20, 2017
It's not the first time Trump has weighed in on the contest. During an earlier round of voting where Ossoff narrowly failed to win an outright victory, the president repeatedly waded into the race from 1600 Pennsylvania Avenue.
Democrat Jon Ossoff would be a disaster in Congress. VERY weak on crime and illegal immigration, bad for jobs and wants higher taxes. Say NO

— Donald J. Trump (@realDonaldTrump) April 18, 2017
Republicans must get out today and VOTE in Georgia 6. Force runoff and easy win! Dem Ossoff will raise your taxes-very bad on crime & 2nd A.

— Donald J. Trump (@realDonaldTrump) April 18, 2017
[image via screengrab]
Have a tip we should know? [email protected]