Presidential Doubtreach: 93% of Republicans Decline Obama Invitation to White House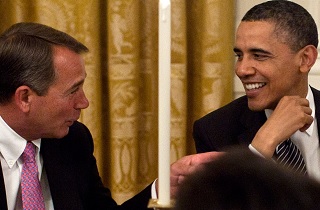 Although the media has dutifully repeated Speaker of the House John Boehner's plaintive cries for a "simple conversation" with President Obama over the government shutdown/default crises (despite the two documented conversations they have already had since the shutdown began), they seem less enthusiastic about the actual results of the President's unclenched fist. On Wednesday morning, President Obama invited 232 Republican lawmakers to the White House complex for a Thursday meeting. Care to guess how many accepted? From The Associated Press:
President Barack Obama is inviting Republican lawmakers to the White House as pressure builds on both sides to resolve their deadlock over the federal debt limit and the partial government shutdown.

With the shutdown in its ninth day Wednesday and a potential economy-shaking federal default edging ever closer, neither side was revealing signs of bending.

But amid the tough talk, Obama invited all 232 House GOP lawmakers to come to the executive mansion on Thursday. Republicans said only 18 would attend, including their leaders and some committee chairmen.

"It is our hope that this will be a constructive meeting and that the president finally recognizes Americans expect their leaders to be able to sit down and resolve their differences," said Brendan Buck, a spokesman for House Speaker John Boehner, R-Ohio.
Although there's already ample evidence that the government shutdown and potential default are pure products of Republican politics, this latest example of GOP snubbery should further belie the mainstream media narrative that both sides are to blame for their continuing non-resolution. Reporters and commentators complain about comparisons of the GOP to hostage takers, or extortionists, yet ignore every instance in which Republicans fail to demonstrate that they are not.
[photo by Pete Souza/The White House]
Have a tip we should know? tips@mediaite.com