Charlotte Protesters Confront CNN Camera Crew: 'F*cking Liars! F*cking Liars!'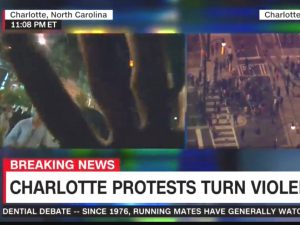 Protesters in Charlotte, North Carolina confronted a CNN camera crew Wednesday night, repeatedly calling them "Fucking liars!" and attempting to block the camera, forcing anchor Don Lemon to stop broadcasting the feed.
The confrontation occurred shortly after CNN correspondent Boris Sanchez was explaining to viewers that social media was accelerating misinformation among protesters and rioters.
Fox News correspondent Steve Harrigan had earlier in the evening been confronted a protester who accused him of trying to "make a fucking fabricated story."
"As happens in these particular situations, the crowd gets out of control and then they try to assault or at least intimidate our camera people and our news people," Lemon said, while monitoring the situation continue to unfold on another feed.
Wednesday was the second consecutive night that violent protest engulfed Charlotte following the death Tuesday of Keith Scott, a black man shot by police. Police say he was holding a gun, while a witness says he was holding a book.
Video of the shooting has not been released. Charlotte's Mayor Jennifer Roberts told CNN that she had not viewed the video yet, but she would see it when it was released to the public on Thursday.
Scott's death came closely after a shooting last Friday in Tulsa, Oklahoma, in which a white officer shot an unarmed black man, Terence Crutcher, whose vehicle had stalled in the middle of the road. Video of that shooting has been made public.
—
Sam Reisman (@thericeman) is a staff editor at Mediaite.
Have a tip we should know? tips@mediaite.com