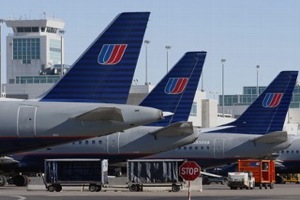 Last night, a diplomat affiliated with the Qatari embassy detained by federal authorities for allegedly trying to "light his shoes on fire" on a flight from Washington, DC to Denver, CO. Early reports claimed that the suspect, Mohammed al Modadi, who the FBI has announced has diplomatic immunity, was trying to set off a shoe-bomb on a flight from DC to Denver, though MSNBC later reported that it just may have been a cigarette.
KMGH Denver has an update identifying the suspect (though ABC News had the initial report):
According to ABC News, the man was identified by authorities as Mohammed al Modadi, a diplomat in the Qatar embassy in Washington. The FBI said the man had full diplomat immunity as the 3rd secretary and vice-consul.

Two jet fighters flew in from Buckley Air Force Base to meet the flight as it flew the final 40 miles to Denver.

Authorities say an explosive team is on the way to the airport, and that while the presence of explosives has not yet been confirmed, they believe it was an attempted "shoe bomb."
The flight, United Flight 663, landed safely in Denver. The plane is Boeing 757 and had 157 passengers and six crew.
NBC is now reporting more details on the activity inside the flight: "A half hour before landing, an air marshal smelled smoke and confronted a man emerging from a bathroom who claimed he was trying to set his shoes on fire… It was uncertain if anything actually was on fire or if this was a joke, NBC reported. Investigators were looking to see what might be in the man's shoes."
Update 10:37 PM: Rachel Maddow is now reporting on MSNBC that there was NOT an explosive on the plane, but that the diplomat was attempting to light a cigarette.
Watch The MSNBC Report Below:

Have a tip we should know? tips@mediaite.com