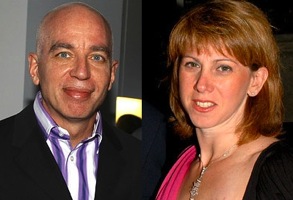 Michael Wolff's Newser.com is an aggregator of news from around the web. Sharon Waxman is the Founder and Editor of The Wrap. In an interview with CurationNation.org, Wolff responded to the then rhetorical question about what he'd do if Rupert Murdoch sent a cease and desist letter regarding content from the NY Post or the Wall Street Journal. Wolff's response was that Murdoch would be on shaky legal ground. Well, now he may get his chance to find that out – as  Waxman today sent a cease and desist to Newser regarding content from The Wrap.
In an interview with the editor of CurationNation.org, Steven Rosenbaum, Waxman explained her take on the line between curation and plagiarism and why Newser crosses the line.
Rosenbaum: On the spectrum of opinions regarding Aggregation generally, where do you fall? with
one side being "you cant reference anything we write without permission" and the other extreme being "once we publish, we relinquish control over anything."
Waxman: I'm thinking about this issue at the moment. I certainly feel that all aggregation should involve proper credit and a link. That just seems good manners. And most people on the Internet do do that.
Rosenbaum: in your experience, have you had situations where your work was Aggregated without attribution?
Waxman: Of course; that's called being 'lifted.' And we work hard to track it down, and eliminate it. We have to – otherwise we have no shot at being a real business. Most often editors will respond to a request for linkage when it's missing, or better attribution. And we have been asked for better attribution from others from whom we aggregate, and we're happy to do that.
Rosenbaum: Where's the line between Aggregation and Curation?
Waxman: What we do is really curation, which i consider a much more careful selection of relevant content.
Rosenbaum: Are there basic rules of quoting and linking that you expect to be agreed among both journalists and bloggers?
Waxman: Yes. And there should be a document we can all agree upon. It would make sense. In practice, there are norms and best practices that most of us follow, even if the laws are vague.
Rosenbaum: Can editorial writing, or re-writing protect and Aggregator from claims of plagiarism?
Waxman: It's not an issue of plagiarism unless they directly lift verbiage, and then put their name on it. It may not even be copyright when it's rewritten. But rewriting without attribution or linkage to the source is wrong, and ethically way over the line.
Rosenbaum: From reading your post, it appears that Newser is claiming that they have 1,700 sources who've agreed to be re-written or reposted without attribution? Do they mean that other sources haven't complained?
Waxman: You'd have to ask them.
Rosenbaum: Did your relationship with Newser begin with an outreach, and an agreement, or did you find out they were using your material when it appeared on Newser?
Waxman: Newser has never approached us about using our material. We have asked that they stop using our material or sign a syndication agreement. At the very least, they should follow their own stated policies, they're not even doing that consistently.
Rosenbaum: Is Newser's position that if you don't like their policies, they wont' use your material, or are they simply saying that based on fair use, they'll use your material in any way they like?
Waxman: They're telling us to go pound salt. That they'll use our material in any way they like.
Rosenbaum: What's the economic impact of this on The Wrap? Do you get any traffic? Any revenue? or does this kind of linkless re-posting taking revenue and traffic out of your pocket?
Waxman: As I wrote in my post we get virtually no traffic from Newser. They pay people to rewrite. They take the byline. They pay photo services for photos to go with the stories. But they pay nothing to those of us who provide the source material. This is parasitism, pure and simple.
It may be parasitism in Waxman's eyes – but Wolff is clearly not going to move off his position, and as he explained, his team is re-writing and well within their rights.
So, what exactly is Waxman looking for:
"All we really want is for Newser to stop pissing on our leg and tell us it's raining. Very simply: put in credit and links where they are missing. Add a Wrap homepage link to the source grid page. Make it simple and logical to get to actual Wrap content from that page."
An excerpt of the cease and desist from The Wrap's Counsel:
Newser's conduct violates The Wrap's rights because: (1) The Wrap generates and gathers time-sensitive information at a cost, including, without limitation, original stories ferreted out and reported by The Wrap's full-time employees and paid contributors; (2) Newser free-rides on The Wrap's sweat of the brow by publishing summaries of these stories without affording The Wrap appropriate credit and a prominent link; and (3) Newser is in direct competition with The Wrap. Thus, Newser's conduct, in addition to amounting to garden variety plagiarism, constitutes unfair competition and violates certain deceptive trade practices statutes. I refer you to the Davis E-Mail for appropriate ways to credit The Wrap when summarizing, i.e., re-writing, The Wrap's stories.
Mediaite' s Jon Bershad, who initially reported the Waxman story for Mediaite, reports that a TV showdown is on the horizon: "Waxman states that she and Wolff will both be appearing on Reliable Sources on CNN this Sunday. We certainly cannot wait for that."
Indeed.
By the way, below is an extremely relevant interview with Wolff regarding aggregation:
Have a tip we should know? tips@mediaite.com