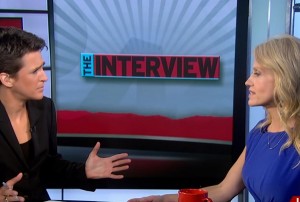 Viewers of Wednesday night's The Rachel Maddow Show were treated to the rare sight of a prominent Republican operative sitting in front of host Rachel Maddow for an extended interview. Newly-crowned Donald Trump campaign manager Kellyanne Conway sat for an interview that took up over 40 minutes of airtime, a brave move considering how big Republican fish have avoided Maddow since Rand Paul ran into a buzzsaw called the Civil Rights Act in her studio a few years back.
Maddow was her usual charming but dogged self, at one point grilling Conway for a good six minutes on whether Trump's "total and complete" Muslim ban from December is still operative. As is the norm for a political spokesperson, Conway tried to have it both ways, insisting that Trump had "clarified" his policy more recently, while also claiming that nothing has changed, but instead of just moving on like most interviewers would have, Maddow stuck with it:
Maddow: There's a reason why we keep not moving on from this stuff. December 7, when he made this statement, it was like every political firework went off at once. Because nobody could believe he was saying, if you are from a specific religion, you're not allowed to come here. If that's no longer the case, that's a big deal. In the same way that his statement of regret, if it's meant to apply to the Khan family, the Curiel family, we can't give him credit to that, unless he tells us that he's communicated that to them. This is stuff of his own making. If you want the campaign to not be about this stuff anymore, he's the one who has to end those controversies. You're in a position of trying to defend what he said last week, and not refer to what he said in December, but only one of them can be true.

Conway: Well, Rachel, I have memorized the list of 22 flip flops that Hillary Clinton has made on policy, and they have nothing to do with the corrupt Clinton Foundation pay to play connection, and I think Bernie Sanders was right on many of those things when he was calling her out for them. and we will call her out…

Maddow: But your own campaign is about your own candidate, right?

Conway: No. There's a choice. — yes, this campaign is about two candidates. If I can say one thing about the coverage, it's not that it's biased or slanted. it's incomplete. It's a referendum of Donald Trump, like you're going to the ballot box and it's going to be a big picture of Donald Trump with a light. You either put a black x over him, or you say yay.

Maddow: But when one candidate is planning on banning people from the United States —

Conway: …and the other is hiding.

Maddow: Not doing press conferences is one thing. but proposing a ban on people coming to the United States over a specific religion…
Conway promised to have Maddow bring her cameras to Trump Tower to interview the candidate, which would be epic, but given the tenacity displayed in this interview, seems unlikely.
This is an opinion piece. The views expressed in this article are those of just the author.