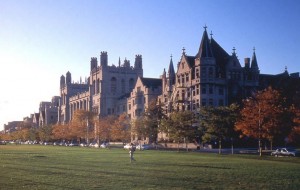 In the midst of an alarming number of higher education institutions providing "safe spaces" for students who have grown offended by political or social views contrary to their own, the highly-esteemed University of Chicago has sent a preemptive warning to its students ahead of the 2017 school year.
In a letter that was sent to the incoming students in the class of 2020 (geez, class of 2020 already?!), the university made it clear that it will not bend to political correctness, but instead maintain a firm commitment to freedom of speech, thought, and expression.
The letter reads in part:
Our commitment to academic freedom means that we do not support so-called "trigger warnings," we do not cancel invited speakers because their topics might prove controversial, and we do not condone the creation of intellectual "safe spaces" where individuals can retreat from ideas and perspectives at odds with their own.
The University of Chicago, regularly ranked as one of the nation's best and most selective colleges, is taking the opposite approach of many other schools. Case Western Reserve University, for instance, provided counseling and safe space haven for students triggered by — get this — the Republican National Convention in Cleveland last month.
"University Counseling Services will continue to offer walk-in services for students who want to talk with someone about their concerns related to recent events and/or the upcoming convention," said the school via an online newsletter.
Openly-gay conservative journalist and star of the "Dangerous Faggot Tour" Milo Yiannopoulos has been the subject of ridicule by college campuses often looking to stifle free speech from the controversial pundit. DePaul University found itself front and center earlier this year of this controversy after a highly contentious appearance from the Breitbart editor. The University president Dennis Holtschneider announced his intention to resign as a result of the flap, when student protestors storm the stage and denied Yiannopoulos' event from continuing.
But if you're entering the University the Chicago, suck it up, kids, and take a page out of Mike Bloomberg's book: "The whole purpose of college is to learn how to deal with difficult situations, not to run away from them. A microaggression is exactly that, micro."
—
J.D. Durkin (@jiveDurkey) is an editorial producer and columnist at Mediaite.
[image via Wikipedia Commons]
Have a tip we should know? tips@mediaite.com