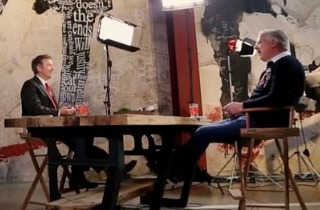 The Blaze host Glenn Beck recently sat down with Sen. Rand Paul (R-KY) where they discussed both the cosmetic and substantial problems facing the Republican Party as it attempts to appeal to a new set of voters. Paul told Beck that he believes the approach he is taking, highlighting a focus on privacy rights issues and reforming the nation's drug laws, will appeal to a broader base of voters who are not traditionally predisposed to support the GOP.

Paul said that traditional GOP messaging around balancing budgets, reducing spending, and focusing on policies that promote economic growth do not appeal to, for example, young voters.
"But if I tell them, 'You know what? The government shouldn't be looking at your cellphone. The government shouldn't be looking at what you read unless they have a warrant. You have a right to privacy,'" Paul said. "Young people will wake up and they will listen to this."
RELATED: WATCH: Rand Paul Delivers Response to 2014 State of the Union
"Republicans haven't gone to African-Americans or to Hispanics and said, 'You Know what? The war on drugs, big government, has had a racial outcome," he added. "It's disproportionately affected the poor, and the black, and the brown among us, and we need to have better criminal justice."
"That message will resonate" Paul said. He said that those groups that primarily support Democrats are open to Republican ideas, "but we have to have a better message and a better presentation of it."
Beck pushed back on Paul. He said that Republicans are just as guilty as Democrats in their willingness to abuse the rights of the individual. Beck said he is open to a third party, but he prefers to find an apolitical figure to reform the GOP from within.
Watch the clip below via The Blaze:
[Photo via screen grab]
— —
> >Follow Noah Rothman (@NoahCRothman) on Twitter
Have a tip we should know? tips@mediaite.com