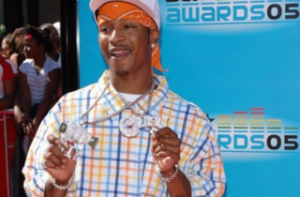 Have you ever been driving your car, minding your own business, when the radio DJ yells, "Time for a throwback!" and puts on Chingy's 2003 hit, "Right Thurr," causing you to wonder, "Dang, what has Chingy been up to lately?" As it turns out, he's released four albums, two EPs, and eight mixtapes, which is a lot of music to go so far under the radar. Chingy is smart, though. He knows how to market himself and get back in the spotlight: Today, Chingy endorsed Donald Trump for president.
In a series of tweets, the rapper, who has also had credited film roles like "pizza man" in 2008's Psycho, explained his endorsement.
Politics vs society. People should innerstand that politics is a business jus like the job you work at. I vote for @realDonaldTrump "YEP" 3

— ChingyJackpot (@ChingyJackpot) January 22, 2016
@realDonaldTrump knows how to conduct business. This country is a business an needs to be ran by a businessman. It's not personal people!

— ChingyJackpot (@ChingyJackpot) January 22, 2016
While Trump himself has not yet commented on this latest show of approval, Chingy has been receiving a lot of attention on Twitter from just about everyone else, causing him to tweet that while he was angry he was "taken out of context," he was glad to be trending on the site. (He hashtagged that "LiveOfACeleb.")
Who? When was the last time Chingy was relevant? https://t.co/HIaQKcP6cs

— imani loves coffee (@mionekins) January 22, 2016
feeling so betrayed by chingy right now

— Brandon (@sexualjumanji) January 22, 2016
@WORLDSTAR he needs to go back to the early 2000's

— john h. (@jherrera1927) January 22, 2016
Even Bernie Sanders's resident rap endorsement chimed in.
Lmfao ??? RT @MindOfPryze: LMAOOO nah I'm going with @KillerMikehttps://t.co/4a64S7M6QY

— Killer Mike (@KillerMike) January 22, 2016
What a way to end a Friday.
[image via screengrab]
For more from Lindsey, follow her on Twitter.
Have a tip we should know? tips@mediaite.com