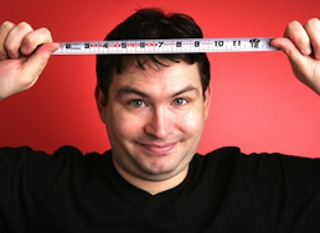 You know, pornographic films frequently get a bad rap for having unrealistic plots but I think that's unfair. I mean, as we speak, somewhere in this country there is someone ordering a large sausage pizza and discovering a unique way to pay the delivery guy. Somewhere, right now, a plumber's statement that it's time for him to "work" a woman's "pipes" is leading to the afternoon to take a weird turn. And, somewhere, the man with the world's largest penis is having to prove to the TSA at an airport that the giant bulge in his pants isn't dangerous.
No, that's not a porn plot. That's something that literally happened.
41-year-old Jonah Falcon was at the San Francisco International Airport last week when he was stopped by the TSA. For, you see, Jonah Falcon has had the Guinness World Record for the world's largest penis since 1999. The penis in question is more than 13 and a half inches when erect.
Wait, is that big? I thought that was normal. Huh.
Anyway…Andy Campbell over at The Huffington Post managed to score an "exclusive interview" with Falcon where he told his tale:
"In an exclusive interview with The Huffington Post, Falcon described his hard times with security guards after his extra carry-on became suspect.

'I had my 'stuff' strapped to the left. I wasn't erect at the time,' said Falcon, whose penis is 9 inches flaccid, 13.5 inches erect. 'One of the guards asked if my pockets were empty and I said, 'Yes."

Falcon said he knew that his interview was about to get a lot more personal when he was led through one of the X-ray body scanners and passed a metal detector.

'Another guard stopped me and asked me if I had some sort of growth,' Falcon said, laughing."
For the first time ever, I feel bad for the TSA.
Have a tip we should know? tips@mediaite.com